Dream, plan, book: Where to go in 2023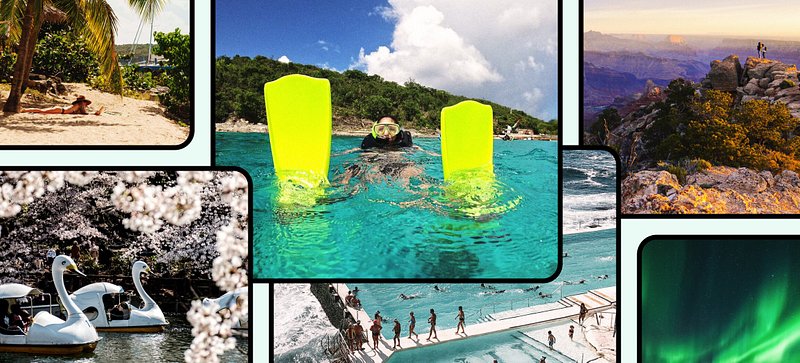 By Clara Sedlak and Maria Hart

21 Dec 2022 • 1 minute read
We've got a hunch you're thinking about your travel plans this year—but we also know there are so many amazing places to see that narrowing down where to go isn't easy. To get you started, here are six destinations our traveler community is very into right now. These places all deliver on once-in-a-lifetime seasonal experiences, with plenty of new things to explore. Bonus: We know that one size doesn't fit all, so these spots will suit all types of travelers—beach bums, city lovers, outdoor adventurers, and more. Happy travels for 2023.
---
Hot springs, black sand beaches, next-level Nordic food—Iceland is an island of striking landscapes and serious culinary cred. And if you've never seen the Northern Lights, your best chance to catch the show is January through April.
---
A stretch of Caribbean coastline on Mexico's Yucatán Peninsula, Riviera Maya is dotted with laid-back beach towns like Isla Mujeres, Tulum, and Puerto Morales (and Cancun is just a stone's throw away). With newly opened resorts and miles of sugar-white sand—it's a go-to now and always.
---
Now that its borders have reopened, Japan's already making a comeback as a must-go vacation destination. And you're in luck: Cherry blossom season is just around the corner (late March through April). Plan to go before peak tourist season hits in summer for the best views.
---
The beaches and weather are near-perfect, and let's not forget about the street festivals and sailing regattas. This year also marks the return of UberSoca, the largest Caribbean music celebration at sea.
---
Think views for miles, winding hiking trails, and a chance to see one of the most amazing landscapes in America. This natural wonder is topping travel lists in 2023, and a visit in spring delivers, thanks to thinner crowds and cooler temps.
---
Where else can you go surfing, gallery-hopping, and hiking in one day? You can do it all in Sydney, and December is the start of summer in the city. The beaches are buzzing and festival season is in full swing—we're talking the Sydney arts festival, Pride, and so much more.
---
Make trip-planning a breeze
Our Travellers' Choice: Destinations winners are chosen by travellers who have been there.

Sign into your account, then tap on the hearts to save the hotels, restaurants, and experiences that catch your eye.

Reco helps you plan and book your next big trip—no sweat.
---
Packing tips and gear to get you on your way