7 Bangkok hotels that highlight Thailand's spectacular architecture
From century-old mansions to rustic bungalows right on the river

By Jenny Adams

3 Nov 2022 • 4 minutes read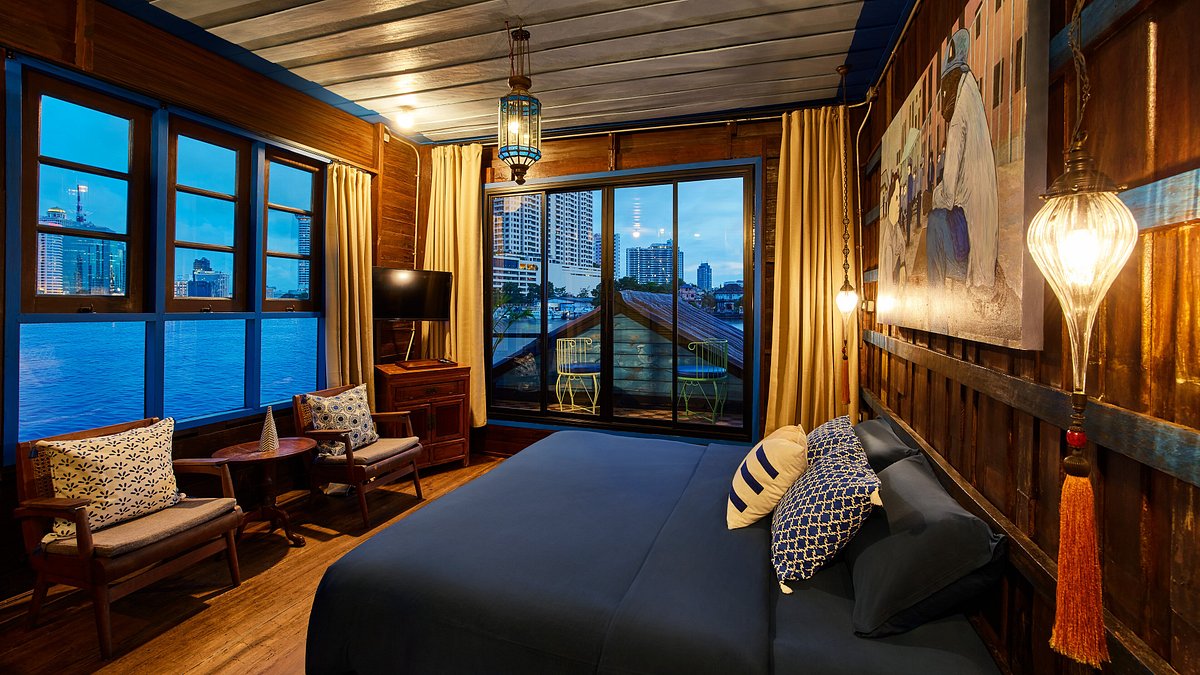 Bangkok is one of the most-visited capital cities in the world, famed for its spicy street eats and well-priced spas as much as its colorful longtail boats, ancient temples, and lively night markets. The city also offers an abundance of hotels to suit any traveler or budget, from plucky backpacker options that start at $10 per night to five-star villas with Michelin-starred dining. If the bounty of Bangkok's options seems overwhelming, you certainly wouldn't be the first travel planner to fall down a rabbit hole of choices.
One of the best ways to forge a deeper connection with Bangkok is by staying in hotels that honor the city's iconic architecture. Some are set in old Thai villas, made from weathered teak with iconic sloped, tiled roofs to funnel the rain away in monsoon season. The more classic river bungalows perch on stilts, and several of the narrow Chinese shophouses have been revamped into chic apartments. You can even overnight in the city's former publishing mansion.
Ahead, you'll find seven of the most unique places to stay in Bangkok.
Baannai The Reminiscence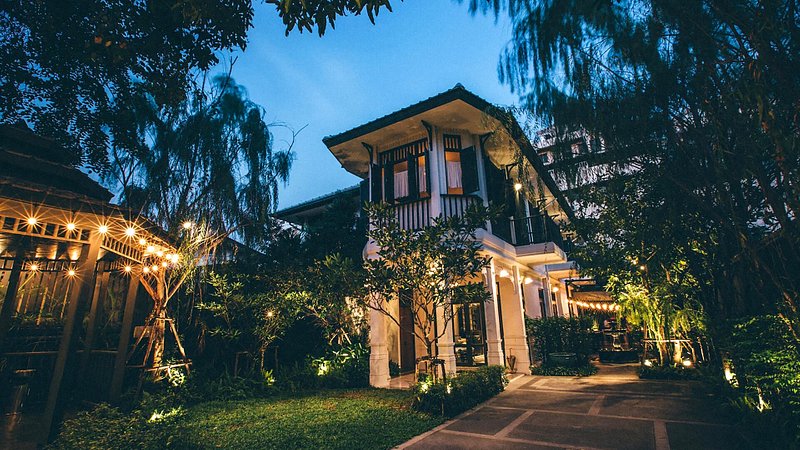 Thailand was never colonized, but you'll still find examples of British and French colonial architecture, which was used across Bangkok due to the global popularity of the styles during the era. Interior designer and managing director Doungsawart Soontornsaratoon inherited this turn-of-the-century, colonial home from his three great-aunts, who were affectionately known as 'The Baannai Ladies.' Each room at Baannai The Reminiscence is decorated to honor their individual personalities. Striking, timeless moments abound, from salvaged, original hardwoods and floral wallpaper to oil portraits and antique luggage set up as décor. Bonuses include private balconies, rattan bed frames, and deep soaking tubs.
Siamotif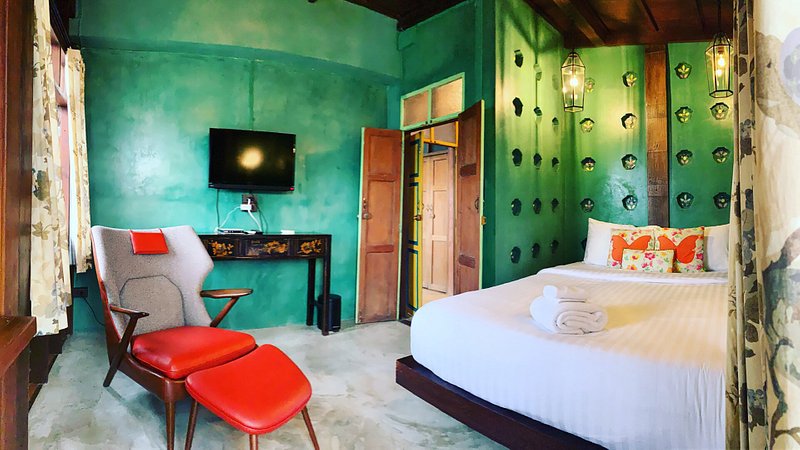 Charming, relaxing, tropical, and quirky are all words that excel at describing Siamotif, an 80-year-old, wooden river house located on the sleepier Western bank of the Chao Phraya River. Owner Maii inherited the house and, in 2015, turned it into a seven-room, boutique experience. You'll find Thailand's iconic, sloped roof eaves here, beautiful patinas on the walls, wooden floors, and tall ceilings. It's a prime example of a classic Thai canal home. Free bikes are available for neighborhood exploration while sliding glass doors, hand-blown lanterns, and tropical foliage dot the property. Plus, each room was hand-painted by a local artist. The largest Porcelain Suite was redesigned in 2022 with soft green walls, a private living room, and a private terrace. At Siamotif, all guests wake up to homemade Thai breakfasts, fresh fruit, hot coffee, and birdsong over the canal.
The Ba Hao Residence
The Chinese shophouse is a distinctive and common architectural style around the capital. Historically, these masonry row houses date to the mid-19th century and are painted a rainbow of colors. Decorated with arched windows, as well as drooping power lines and crawling foliage, their narrow footprints make them instantly recognizable. A typical shophouse has a business on ground level, with one-room living quarters above. The Ba Hao Residence—available on Airbnb—is an ideal example, located on Soi Nana, a unique laneway that's home to several of Bangkok's most-awarded cocktail bars. The two-room residence sits above Ba Hao, a first-floor, diminutive bar and restaurant with fiery dumplings and delicious whiskey sours. Upstairs, the Santiphap Room and the Maitri Chit Room both feature polished concrete floors, private subway-tiled bathrooms, woven rugs, and luxury bedding, as well as terraces overlooking the action. A striking, common living room is shared on the second floor, with a chesterfield sofa, Smeg appliances, and courtesy coffee.
Loy La Long
You'll realize upon arrival why Loy La Long is a favorite shooting location for Thai filmmakers. Perched on pilings directly over the water, the exposed staircase, open kitchen, and open lobby are all features of Bangkok's riverside architecture. The showstopper here is the unrestricted views of the river traffic puttering by, but the proprietors have also hung dozens of pieces of art and placed bean bags and traditional, embroidered silk cushions for lounging in the common spaces. The six suites are based on colors. The Green Room, for example, boasts emerald herringbone tiles and a massive, copper soaking tub, while the Black Room's touches of charcoal and leather are buoyed by a striking art piece featuring jazz legend Louis Armstrong.
Bangkok Publishing Residence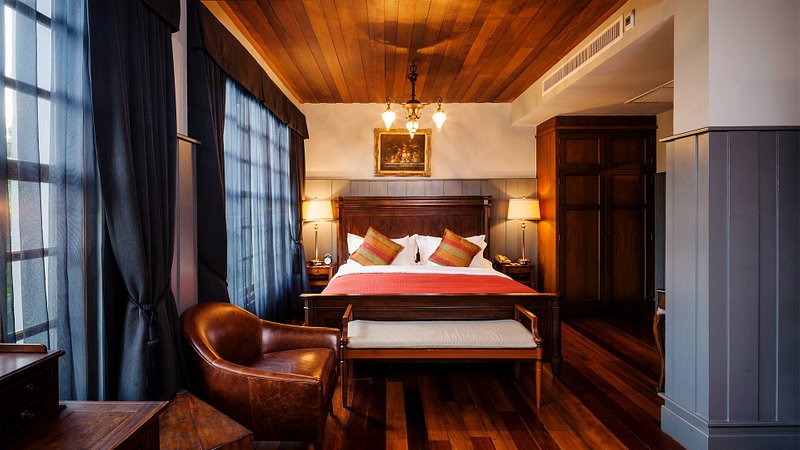 This 1960s shophouse–steps from Golden Mount Temple and Bangkok's most famous pad Thai restaurant, Thip Samai–was home to a publishing dynasty for generations. The Bangkok Weekly Magazine was produced here, and, when the building reopened as a hotel in 2016, the seven-year renovation debuted a museum to the city's publishing past, as well as eight luxury rooms. Leather armchairs, petrol blue paint accents, deep armoires, and heavy drapes adorn the private quarters. The common spaces give historic nods with glass etageres displaying antique printing equipment and bookshelves filled with leather-bound volumes. Bangkok's tropical evenings are best enjoyed in the roof garden, where banana and citrus trees frame the city's temple-spiked skyline.
Boon Chan Ngarm house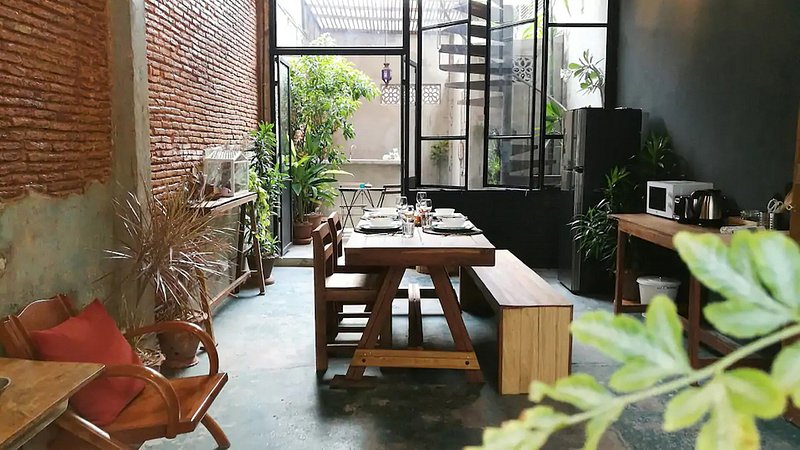 You might decide to move to Bangkok after a weekend in this dreamy, century-old river home, right in the heart of one of Bangkok's vibrant tourist neighborhoods–Bang Lamphu. "As far as I can track, this was a residence for workers in the area, and then a barber for a long time," says proprietor and filmmaker, TongPong. While the home was renovated, many of its original features still stand. "We used the original floors, the front door, and we have the back garden. That's rarely found in a house like this," he says. Old teak shutters flank a spiral staircase, and fun-but-functional touches like mosquito nets (just in case) remind you that you're in Southeast Asia. There's a washing machine and a stove, as well as a romantic table for two out back.
The Siam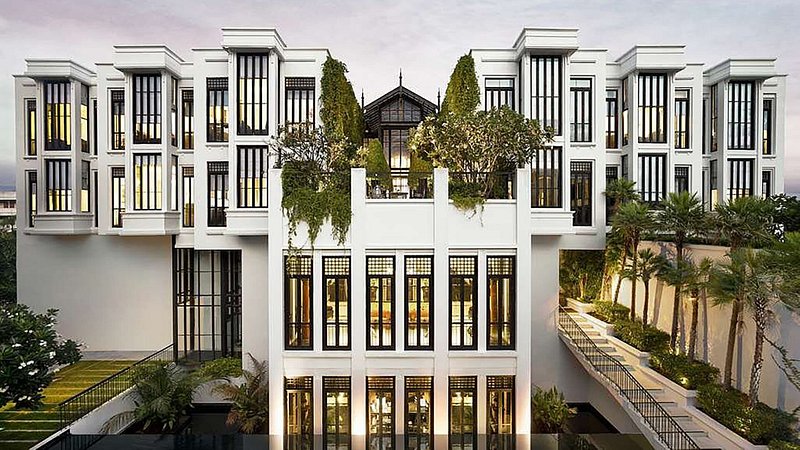 One of Bangkok's most famous expats, Jim Thompson, made a name for himself in the 1950s and 1960s as a global exporter of Thai silks. He also realized the value of old, beautiful, teakwood Thai homes. He purchased, dismantled, and moved several houses from the old capital city of Ayutthaya downriver, to be rebuilt in the heart of Bangkok. Ten years ago, a few of those houses were moved once more, to The Siam when it opened. Right on the river, this opulent, boutique hotel has an Art Deco style, with interiors by Bill Bensley. If you can't swing a full stay in a Thai house, a great alternative is having dinner at the hotel's Chon Thai restaurant, which sits inside one of the homes Jim Thompson relocated. Climb the wooden staircase and dine on silk placemats from a menu filled with modern, refined takes on classic Thai staples.