A whirlwind, hotel-hopping weekend in New York City
Annette Richmond makes the most of a long weekend in Manhattan.

By Tommie Ethington

18 Nov 2022 • 4 minutes read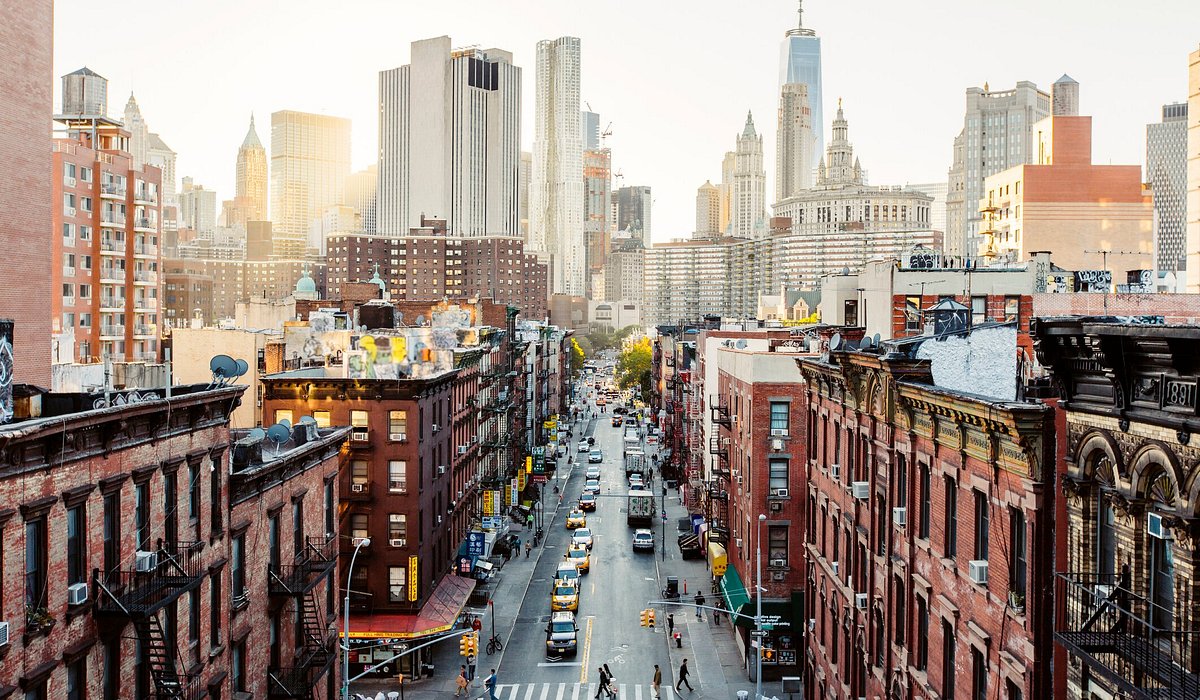 In our Where To series, we tag along as eight fascinating travel influencers jaunt from coast to coast in search of the best meals, experiences, and more, all inspired by our Travelers' Choice Awards. Browse all of the itineraries on our Where To hub.
Annette Richmond, founder of @fatgirlstraveling, spreads body positivity wherever she goes—and she goes to a lot of places. The frequent flier stopped off in Manhattan in August to experience three different hotels in just three days.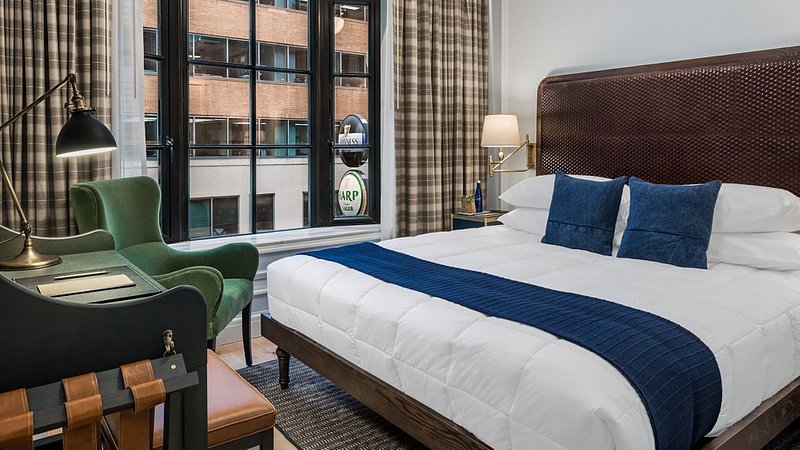 Travelers' Choice Best of the Best winner Merrion Row Hotel and Public House puts you in the middle of the action. It's less than a 15-minute walk to iconic sites like Times Square, Rockefeller Center, Bryant Park, and the Empire State Building. The small, but well-appointed rooms are decorated in leather, velvet, and brass, while the downstairs Irish pub is the perfect spot to grab a post-flight, pre-dinner cocktail or pint of Guinness.
For dinner, head downtown to Ernesto's. Although it opened in 2019, the Basque restaurant on the Lower East Side feels like the kind of neighborhood haunt that's been there forever. The experimental small plates menu changes daily and is perfect for sharing. For the best experience, ask the staff for their favorites.
Day two: Experience quintessential New York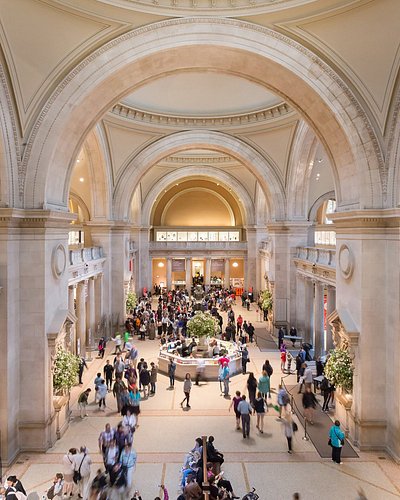 Rise early for crepes and French toast at Cafe Un Deux Trois, a brasserie that's been a fixture of Times Square since 1977. From there, it's a quick cab ride or scenic 40-minute walk to the Metropolitan Museum of Art, a Travelers' Choice Award winner. With millions of objects, it's impossible to take in the entire museum in a day. Instead, pick a few areas of interest to explore in-depth.
Not sure where to start? Try the second floor's vast collection of European paintings, which includes self-portraits by Van Gogh and Rembrandt, as well as rare Vermeer masterpieces. The Temple of Dendur, the only complete Egyptian temple in the Western hemisphere, is also a must-see, and is found on the first floor to the right of the Great Hall. Plan your visit for the summer to experience the annual fashion exhibition tied to the Met Gala.
After a few hours at the Met, walk south, towards the hotel, through Central Park. Covering more than 800 acres, it's the city's largest green space and one of the biggest parks in the world.

For lunch, enjoy dim sum and mouth-watering pork buns at the Hell's Kitchen outpost of Tim Ho Wan, hailed as the "world's most inexpensive Michelin-starred restaurant." Then, retrieve your bags and make your way to your new digs: Equinox Hotel New York, another Travelers' Choice Best of the Best winner. If you've still got time to kill before check-in, grab your swimsuit and a coveted spot at the hotel's rooftop pool or explore the surrounding Hudson Yards area, which includes Edge. The city's highest observation deck, it takes happy hour to new heights 100 stories above Manhattan.
Once you've come down from the adrenaline high, journey to Greenwich Village for housemade pasta and fresh focaccia bread at Travelers' Choice Award–winning Rosemary's. End the night at Village Vanguard—said to be the oldest continuously operated jazz club in the world, it has played host to greats like Harry Belafonte, John Coltrane, and Miles Davis.
Day three: See some shows
Romeo and Juliet Colombian Coffee serves up strong coffee and good vibes—it's the kind of friendly, family-owned place that plays Reggaet0n music at 8 a.m. Pair your java with the avocado toast, topped with bacon and slow-roasted tomatoes. Then, return to the hotel and spend the morning enjoying Equinox's wellness offerings. Take a class in the pilates studio or break a sweat in the indoor saltwater lap pool. The full-service spa has the usual luxury treatments, plus an infrared sauna and cryotherapy.
When it's time to check out, make the four-minute walk to Pendry Manhattan West, the third and final Travelers' Choice Best of the Best–winning stop along your New York City hotel tour. Light and airy with an abundance of greenery, the Pendry has more of a SoCal vibe—but it's impossible to forget you're in Manhattan thanks to the floor-to-ceiling windows with views of the surrounding skyscrapers.
Grab a slice at any nearby pizza joint—in New York it's hard to go wrong, but Travelers' Choice Award–winning Rubirosa, near Little Italy, is a sure bet. Then, take in more of the arts scene. If you're in town before the end of 2022, don't miss "Jean-Michel Basquiat: King Pleasure" at the Starrett-Lehigh building in Chelsea, a colorful tribute to the late Neo-Expressionist artist featuring more than 200 rarely exhibited paintings, drawings, ephemera, and artifacts.

End your trip back on Broadway for dinner and a show. The Terrace And Outdoor Gardens, inside the Travelers' Choice Award–winning Times Square EDITION hotel, is a feast for the eyes with oversized art and plants covering the walls and ceiling. Ask your waiter at the beginning of the meal to set aside one of the "I love New York" chocolate soufflés for dessert—it's kitschy in the best way. For the entertainment portion of the evening, get tickets to Six: The Musical. Making its Broadway debut in 2021, the all-female cast narrates the story of King Henry VIII's six wives. Suffice to say, you'll still be humming the catchy power ballads long after you've returned home.
Annette's picks:
Most hospitable hotel employee: Joey was the real MVP at the Equinox Hotel's pool. We didn't have reservations but he promptly found lounge chairs for us. After we thanked and tipped him, we quickly ordered cocktails and started dancing!
Favorite souvenir purchased: I collect postcards to send to friends and family and display in my home. I purchased a few at the Basquiat exhibition and it was so special to be able to share his art with the people I love.
Experience that nudged you to overcome a fear: It can still be difficult to enter fitness-focused spaces with prevalent diet culture and fatphobia. It wasn't easy going to the Equinox Hotel pool but it's more important to me to represent my community and counter stereotypes that fat people aren't as active or happy with our bodies as they are. Did I receive a few stares? Yes, but I received just as many compliments and smiles.
Space whose decor you'd want to replicate at home: The gallery walls at the Terrace and Outdoor Gardens blew me away!
One thing you wish you'd know before the trip: When people talk about revenge travel they are not lying. The security lines were hectic to and from NYC. I arrived four hours before my departure time and still barely made my flight due to the chaos.