A guide to tea time in England
By Nicole Au

6 Dec 2022 • 3 minutes read
There is nothing more British than tea time—an aromatic cup of tea, scones with jam and cream, cucumber sandwiches, and a slice of the lightest and fluffiest sponge. If you're planning a trip to England, do as the locals do and have your go at an afternoon tea. But what exactly is this tea time ritual that is beloved and treasured by the British? From the what to the when, this guide will give you a little insight into this tradition and where you can experience it for yourself.
Afternoon tea vs high tea
While afternoon tea and high tea are often used interchangeably, the two are very different traditions.
Afternoon tea originated from the upper class and is considered more of a formal gathering than high tea, which originated from the working class. Traditionally, the food served for both is rather different as well—along with tea, of course, afternoon tea is served around 4 p.m. with delicate pastries, while high tea is a more substantial meal served between 5 to 7 p.m. after a long, hard day at work.
Afternoon tea in England
Afternoon tea has remained mostly the same to this day: dainty sandwiches and pastries served with a pot of aromatic hot tea. Though today, some fancier spots might offer more modern options other than the traditional scones with jam and cream, and teas like Assam tea, Darjeeling tea, Earl Grey tea, and Lapsang Souchong.
While afternoon tea was traditionally an additional meal to fill the long gap between lunch and dinner, it's now more of an occasional indulgence, reserved for special events like birthdays, pre-wedding parties, or even baby showers.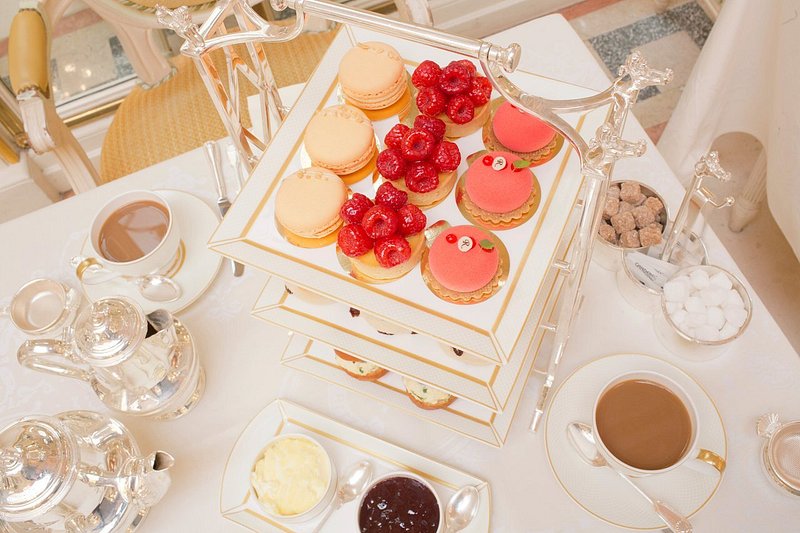 If you're in England, don't miss an afternoon tea experience at the Ritz in London. Setting the standard for tea time in England, you can indulge in a traditional menu of moreish finger sandwiches, fruit scones, and an assortment of seasonal pastries in its ornate ballroom. Choose from a curated selection of teas while learning about the aromatic blends from the friendly staff.
Want a more modern and chic experience? Give Prêt-à-Portea at The Berkeley Hotel a visit. Fall in love with their afternoon tea menu that is inspired by great fashion houses like Gucci, Saint Laurent, and Chanel. Dig into their edible works of art while sipping on a perfectly brewed cup of tea. For more recommendations, check out our guide to the best spots for afternoon tea in London.
High tea in England
While you might think that high tea has its origins in high society, it actually started from the working class in the late 19th century. The meal usually consists of hearty dishes like meat or fish, bread, vegetables, and a pot of hot tea.
Today, while many people in England now refer to this meal as supper or dinner, it is still considered as "tea time", though its usage has changed over the years. You might see some hotels and restaurants using the terms "high tea" and "afternoon tea" interchangeably—don't be confused, they are more likely referring to the latter.
What is elevenses and other tea times in England
Besides high tea and afternoon tea, there are other tea times in England like elevenses and cream teas. Elevenses, as the name suggests, is a second breakfast that comes between breakfast and lunch at around 11 a.m. It's usually a very casual affair consisting of tea, biscuits, small cakes, or pastries.
Cream tea, on the other hand, is a phrase used to refer to a time set aside for quick replenishment—or what most of us know as an "afternoon snack". It usually consists of scones and clotted cream, and of course, a pot of hot tea. This tradition is associated more with the Southwest regions of England, so don't miss out on a cream tea if you find yourself in spots like Cornwall or Devon.
Here's a tip: if you're in Devon, the cream goes on first, followed by jam, but the opposite if you're in Cornwall.
Tea time tips and etiquette
If you're sitting down for an afternoon tea the next time you're in England, remember to reserve your spots in advance, especially if you intend to visit one of the more popular hotels or hop on an afternoon tea cruise. 
Depending on where you're headed, there also might be some tea etiquette that you should observe as well. Most places will have a dress code, typically smart casual. While dining, all the dishes are usually presented at the same time in a traditional afternoon tea setting. However, always go for the savory before the sweet.