6 can't miss African restaurants in Washington, D.C.
Sample the flavors of the African continent in the nation's capital.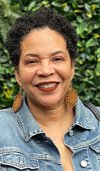 By Jennifer Douglass for TravelCoterie in partnership with Tripadvisor

9 Nov 2022 • 3 minutes read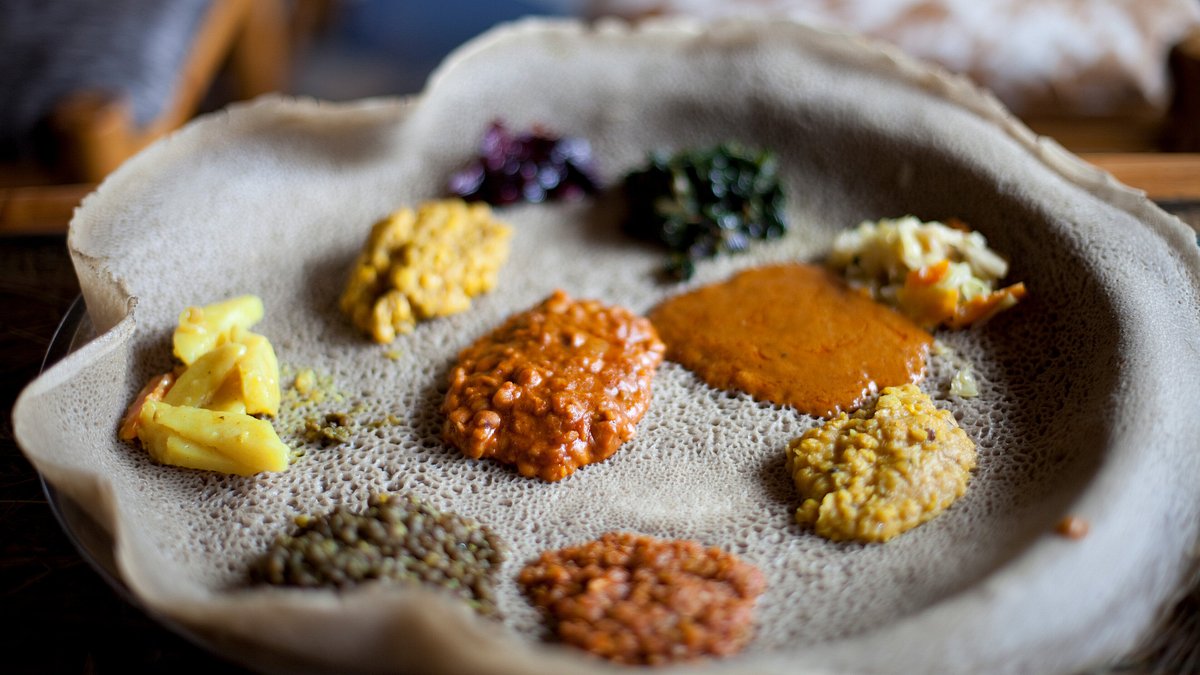 Washington D.C. is home to a significant population of African-born residents, with nearly 200,000 people from the African continent calling the U.S. capital home. As a result, the city is a wonderful place to explore African cuisine, which is as vast and diverse as the continent itself. Whether you're drawn to the rich berbere spices of Ethiopia; rich, satisfying jollof rice from Nigeria and Ghana; juicy, grilled nyama choma from Kenya; or all of the above, you're in for a treat in D.C. Ahead, some delicious options for whetting your appetite.
Dukem Restaurant
Ethiopian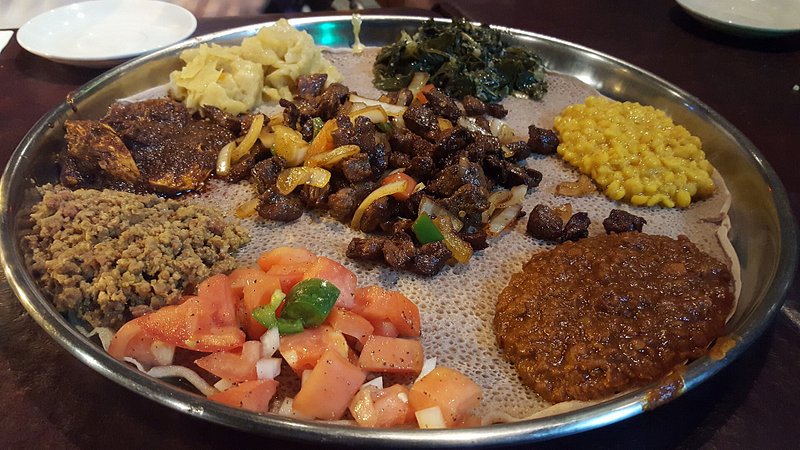 Ethiopians make up the largest African community in Washington D.C., and chef Tefera Zewdie's restaurant has been a staple on the U Street Corridor since 1997, when he began selling traditional Ethiopian breads, desserts, and spices from a carry-out venue. Twenty-five years later, the expanded eatery is still going strong, with sleek dine-in restaurants in D.C. and Baltimore.
Dukem has an expansive menu that showcases traditional Ethiopian flavors and ingredients like berbere, a chili spice blend, and sorghum, a dense grain indigenous to the country. Between fresh combination platters with spicy yellow lentils, cabbage, and chickpeas, and meat specialties like flavorful gored gored (minced beef), there are plenty of options for vegetarians and meat lovers alike. Meals are served family-style on one platter in the center of the table and usually eaten with injera (a traditional flatbread) as the utensil of choice, with an array of beautiful colors in every dish.
Appioo African Bar & Grill
Ghanian
For chef Prince Matey, the restaurant business is all in the family. His brother Justice is the owner of Bukom Café (see below), while Prince's Appioo African Bar, located in the trendy Shaw neighborhood, specializes in traditional Ghanian recipes. With dishes like Kenkey fish (prepared with fermented white corn), akrakro and beans (a popular street food consisting of plantain fritters), and of course, jollof rice, the traditional menu is a shift from many other local West African restaurants that specialize in fusion cuisine. The restaurant also earns raves for its reasonable prices and frequent live concerts.
Bukom Cafe
Ghanaian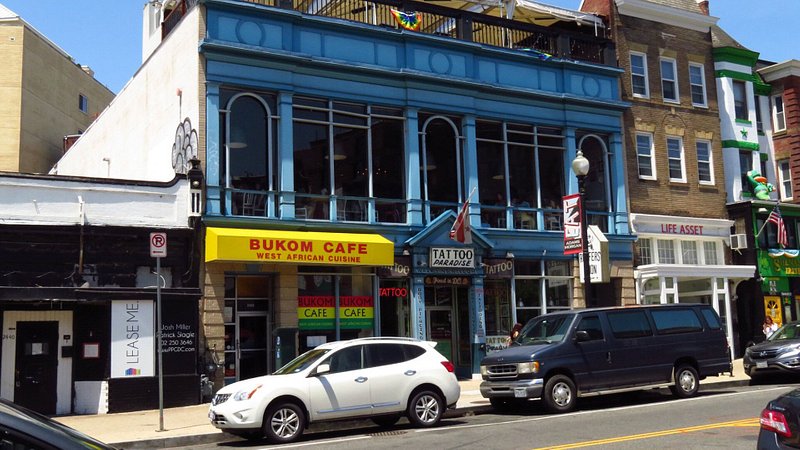 Named after the bustling Bukom Square in Accra, Ghana, this cafe features a diverse pan-African menu with flavors inspired by the west coast of Africa, from Senegal to Sierra Leone. Owner Justice Matey is of Ghanian descent (and brother of the aforementioned Appioo African Bar owner Prince Matey), and has developed a menu with plenty of favorites from his home country's cuisine: fufu (a boiled and pounded dough), pepper soup, fried plantains, fried red snapper, and jollof rice, to name a few.
Bukom Cafe also features an extensive bar known for its traditional and innovative mixed drinks (the rum punch is a perennial hit), and on Friday and Saturday evenings, you can enjoy your dinner and cocktails along with live entertainment.
Swahili Village – The Consulate DC
Kenyan
Swahili Village chef and founder Kevin Onyona grew up near the shores of Lake Victoria, where much of the cuisine is built around the abundance of fresh local seafood and a long history of pastoralism practiced by Indigenous groups like the Maasai, as well as Indian and Portuguese flavors introduced over the last several centuries. Diners can sample all of the above at this lively spot near Embassy Row.
Some of the most popular dishes on the menu include nyama choma (a charred beef specialty), mbuzi choma (marinated and charred goat), and whole fried red snapper. Vegetarians can feast on ugali (a satisfyingly fluffy style of fufu) and kachumbari, a spicy blend of tomatoes, cilantro, lime juice, and onions dashed with spicy peppers.
Zenebech Injera
Ethiopian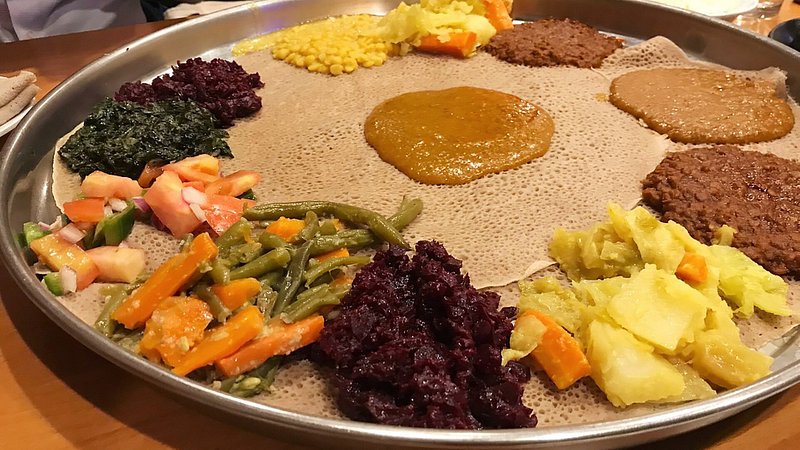 In 1993, chef Zenebech Dessu opened a bakery with only $150 in seed money. Specializing in Ethiopia's staple flatbread, injera, along with other traditional baked goods, the operation gained popularity among D.C. locals. By 1999, they were offering carry-out dinner orders, and in 2017, Zenebech Injera moved into its current home in the buzzy Adams Morgan as a full-fledged dine-in establishment.
Today, Zenebech's injera is still among the most popular in the city. Other menu standouts include zesty awaze tibs (tender beef, lamb, or chicken cooked in the fragrant Ethiopian spice berbere), and wot, a hearty, slow-cooked stew. You can learn more about the journey of chef Dessu and her husband, Gebrehanna Demissie, in an episode of the PBS series No Passport Required, hosted by fellow Ethiopian tastemaker Marcus Samuelsson.
Moi Moi
Gambian / Southern, US
This downtown eatery, which opened in early 2022, combines influences from chef Howsoon Cham's Gambian heritage with flavors from Lowcountry Gullah culinary traditions. Cham has characterized his menu as "Southern American cuisine with a West African accent."
Sample appetizers that offer a spin on traditional Gambian dishes: pepper soup with oxtail and goat, and black-eyed pea fritters with spicy onion jam (Moi Moi's name itself is a spin on a traditional Gambian dish also made with black-eyed peas). Main dishes include fusion creations like berbere-spiced lamb chops with brussels sprouts, cassava leaf mint pesto, and a side of mac and cheese.
This article was produced in partnership with TravelCoterie, a Black-owned publication featuring travel news, tips, and cultural experiences.