Where to drink in Barcelona right now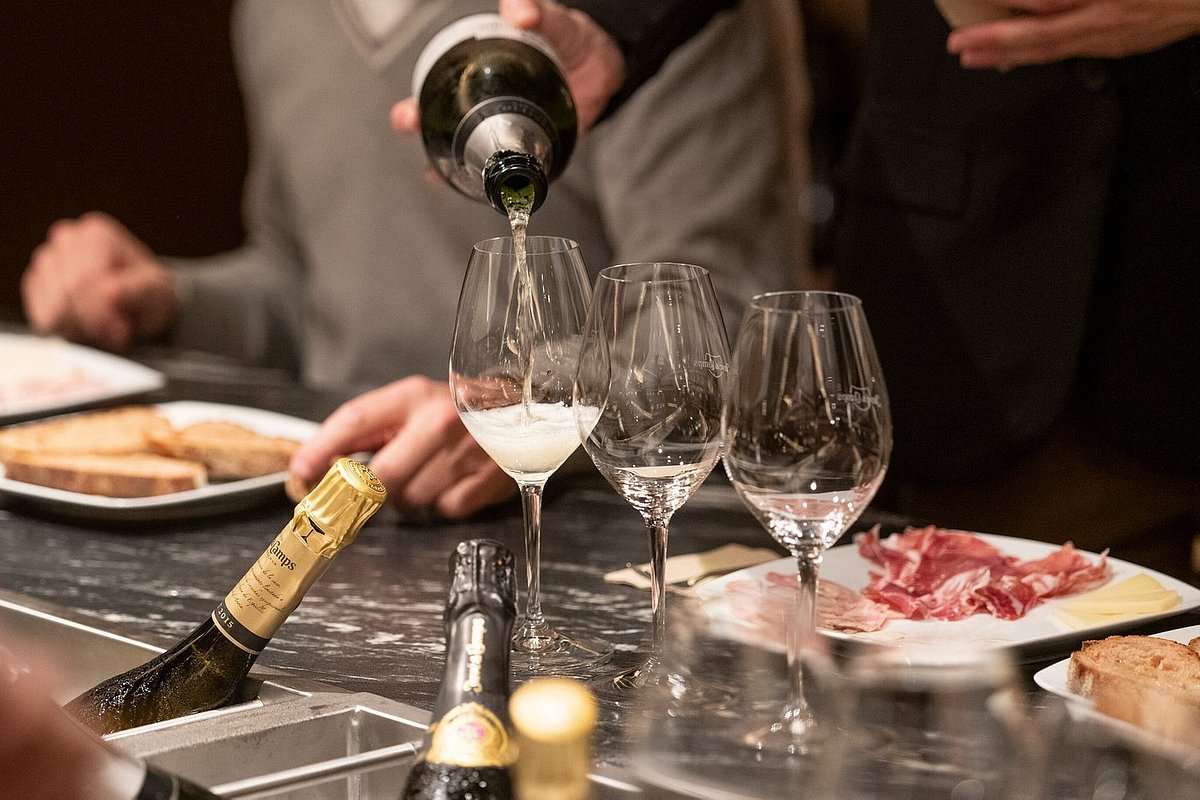 By Siobhan Reid

3 Jan 2023 • 3 minutes read
If you've ever been to Barcelona, then you've likely seen the trendy rooftop bars and breezy beach clubs that dot barrios from Plaza de Catalunya to La Barceloneta. And while these still do exist (and are worth a visit), the city has really come into its own as a drinking destination. The cool kids are crowding into drinking holes that feel much more of the place, like rustic wine bars specializing in indigenous grape varieties and neighborhood pubs serving brews made from locally grown barley and hops.
And for the first time, the world's top mixologists and sommeliers are looking to Barcelona for cues for what to put on their menus, from Catalan craft beer and Corpinnat (a new category of Cava) to drinks that highlight regional ingredients, like Arbequina olive oil and even tomacons (Catalan hanging tomatoes).
Having just moved to the city, I was all about seeking out these new spots and these are 5 places that represent.
The spot: Paradiso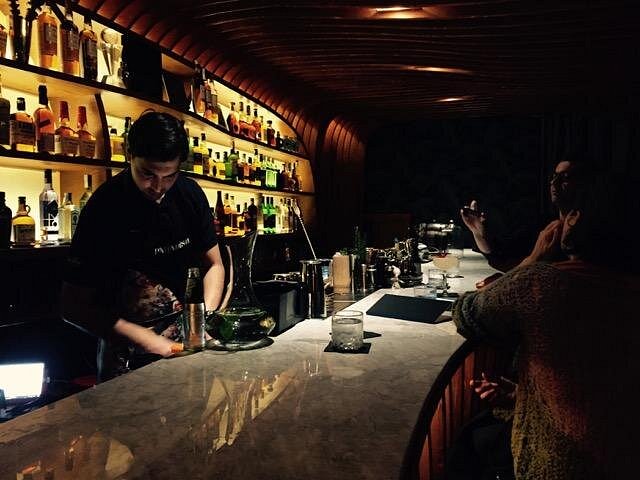 If Antoni Gaudí had designed a cocktail bar, it probably would've looked like Paradiso. Tucked behind a pastrami shop in the trendy El Born neighborhood, the speakeasy has an undulating wood ceiling and a sinuous bar that recalls the curving shapes of Casa Milà and other Gaudí masterworks. But Paradiso has style and substance, and it's not a stretch to say that the bar has totally shaken up Barcelona's drinking scene. This year, the hotspot was crowned the winner of the World's 50 Best Bars list—the first time a bar outside New York or London has earned top honors.
What to order: At Paradiso, the menu is always changing according to the theme (this year's was the "evolution of humankind"). But the best concoction I've tried is the On Fire milk punch, made with tahini, sweet potato, and Oloroso sherry from Jerez de la Frontera.
The spot: ELDiset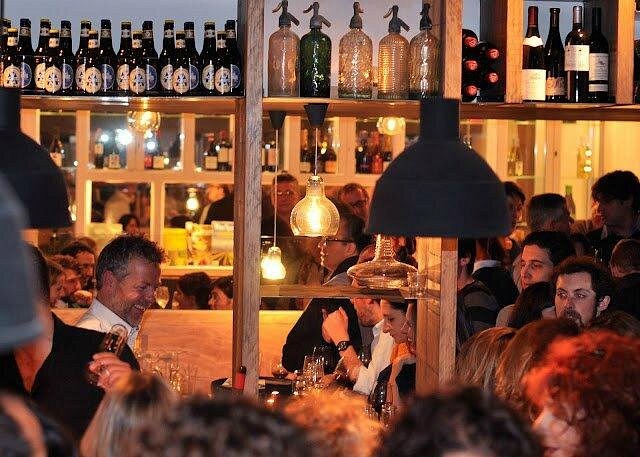 Also in El Born, ElDiset is a casual wine bar that's serious about Catalan vino—90 percent of the bottles are from the region. If you've never tasted indigenous grapes like the endangered black-skinned Sumoll variety or Xarel.lo (one of three grapes used in the production of Cava), the knowledgeable servers are happy to give you a rundown. For food, the thing to order is a torrada de pa de vidre, or glass-bread toast. The one topped with blue cheese, jam, and flambéed apples pairs beautifully with grenache blanc, another popular local variety.
What to order: The Pansa blanca and white Grenache blend from Testuan Cellar. Fresh and zippy and a little salty, it exemplifies the aromatic styles of wines from Allela, a tiny Catalan region wedged between the mountains and sea.
The spot: La Textil Collective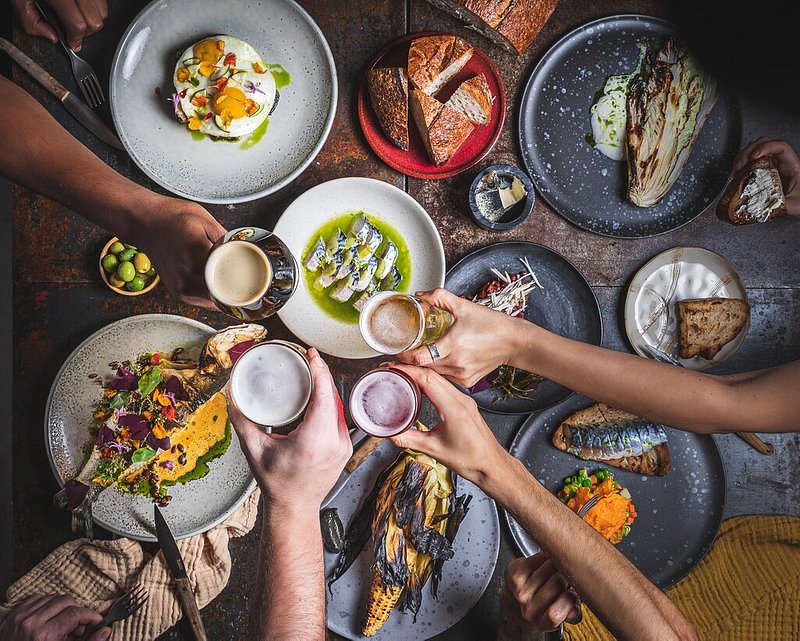 Housed inside an old textile warehouse near the Arc de Triomf, this cool women-led pub is all about house-made craft beer—smoked lagers, imperial stouts, hazy IPAs, mouth-puckering sour brews, and the list goes on. The industrial-chic spot for after-work drinks, but it's worth coming on weekends for the live vinyl sets, on-site brewery tours, and concerts in the basement. Don't sleep on the inventive tapas-style dishes, most of which include fermented local root vegetables.
What to order: The ruby-hued El Nota, a sour beer with aromas of sea water, hibiscus, and lime. I'm also a fan of the Drinkin' Not Thinkin,' a Belgian-style witbier made with Ethiopian cold brew from Barcelona's Hidden Coffee Roasters.
The spot: Sips
This moody cocktail den draws on Barcelona's history of molecular gastronomy to offer an interactive magic show-style experience. Settle into the sleek space—all dark tones, velvet seating, and dim lighting—and watch as the mixologists use dry ice, flavor blasters (a device that vaporizes scented aromas and forms edible bubbles), and rotary evaporators to craft mind-boggling drinks, all served in elaborate glassware made by local artists Ferran Collado and José Piñero.
What to order: The legendary Olfactory Chamber cocktail comes in an egg-shaped flagon made of delicate glass, with liquid pooled at the bottom and herbs and plants suspended inside. Presentation aside, the drink is delicious, with a sweet and earthy character.
The spot: Juvé & Camps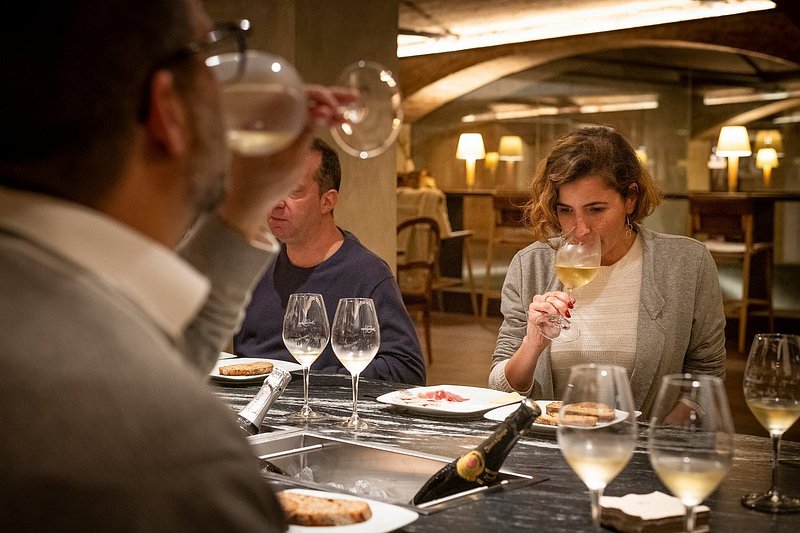 This family-owned winery—one of Spain's most renowned Cava producers—recently started offering private tours of its vineyards, located 45 minutes from Barcelona in the picture-perfect Penedès village of Sant Sadurní d'Anoia. After strolling through the vines and exploring the 100-year-old cellars, guests will be whisked to a local restaurant to enjoy a range of sparkling wines (including bottles of the 30-month-aged Cava Gran Reserva) paired with creative Mediterranean and Catalan fare. It's a great way to learn about Cava and regional winemaking traditions before working your way through Barcelona's best wine bars.
What to order: If you're just starting your Cava education, you'll want to get your hands on a bottle of the Gran Reserva 2015. Aged in the bottle for about 42 months, it's a testament to how intense and complex Cava can be, with notes of brioche, spices, and honey and a creamy finish.