Where to find the best red envelopes for Lunar New Year
In Singapore's Chinatown, a single street reigns supreme.
By Lisa Wong Macabasco

20 Jan 2023 • 5 minutes read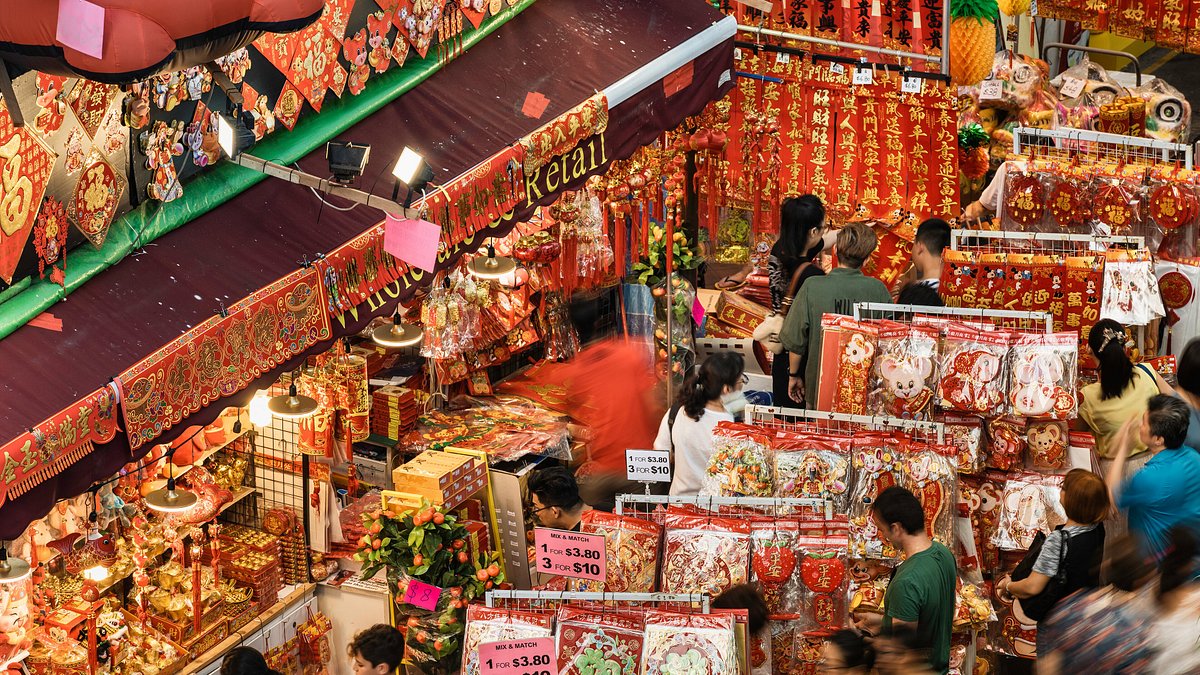 It's two weeks before Lunar New Year, and amid the sweltering January heat (which feels north of 100 degrees Fahrenheit with humidity) and a more than scant scent of durian, there's a rabbit hunt afoot in Singapore's Chinatown.
Shoppers rifle through rabbit-adorned purses, keychains, and scrolls, as well as stuffed animals and gold figurines—even oversized door decorations with a winking hare and ornaments with a bunny flashing a peace sign. Rabbits romp across thousands of red envelopes—wide-eyed, laughing cartoon cottontails clutching oranges, fish, lanterns, and pots bursting with gold coins, and batting frankly enviable eyelashes. After all, red envelopes—a token of good luck that contains a small cash gift—are the item most widely associated with Lunar New Year the world over.
In the Southeast Asian city-state, Lunar New Year celebrations—which kick off January 22—approach blowout proportions, with a live-broadcast countdown party in Chinatown capped with fireworks, followed by two days of public holidays for people to gather with family (clad in lucky bright red clothes, of course). Over 75 percent of the five-million-strong population is Chinese, comprising Singapore's largest ethnic group, and the vast Chinatown, located in the heart of the metropolis and dating back to 1843, is a pre-New Year must-visit for the community. Needless to say, stocking up with all the right supplies ahead of the holiday is almost as lively as the celebration itself.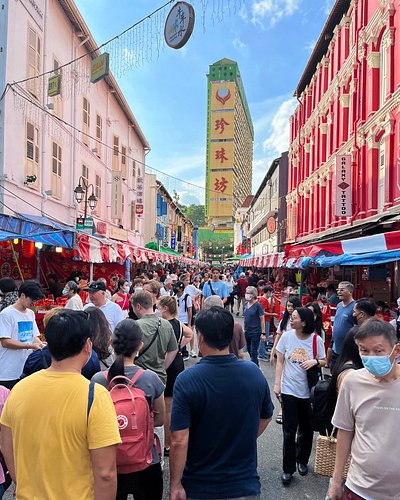 For Singaporeans, Chinatown's Sago Street—a short, pedestrian-only lane in front of the Buddha Tooth Relic Temple's entrance, named for the factories that once churned out sago flour in this area in the 19th century—is the spot for unrivaled Lunar New Year shopping.
Among the must-buys on Sago Street are the aforementioned red envelopes, the color of which symbolizes good luck and is believed to ward off nefarious spirits. Hong bao (or lai see in Cantonese) are given by married people primarily to children of relatives, friends, and colleagues. Red envelopes filled with larger amounts are typically given to those closest to you. The bills inside should be crispy and new, coins should be avoided, and the amount should never include the number four, which sounds like the word death in Chinese and considered bad luck. Red envelopes are also always received with both hands, accompanied by an auspicious phrase said to the giver, and should never be opened in front of them.
Sago Street boasts a truly staggering variety of envelopes, from tasteful and traditional (simple, auspicious phrases in gold: 福, meaning "good luck and blessings," 恭喜发财 meaning "happiness and prosperity," and 新年快乐 for "Happy New Year") to hypermodern and over-the-top (think Thumper's Singaporean cousin). Note: some phrases are intended for birthdays, weddings, or funerals, so know there's plenty to shop for beyond Lunar New Year in the district, and be sure to consider which envelope is meant for what occasion.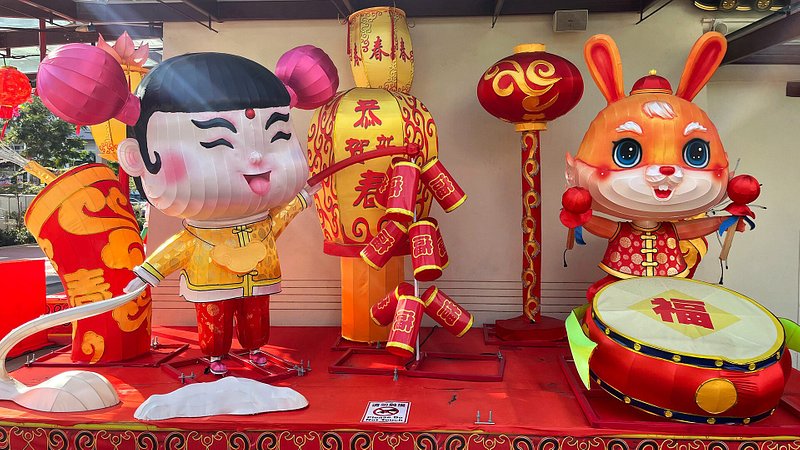 There seem to be more vendors on Sago Street than ever this year, with shoppers likewise returning to pre-pandemic levels, according to Thiam Wei Toh, a Singapore native and founder of the walking-tour company Indie Singapore. "New Year's excitement has been pent-up for the last two or three years," he said, referring to restrictions on large gatherings that curbed many family celebrations throughout the pandemic. "On New Year's Eve, we have a reunion dinner, and for many Chinese people, that's the one time you must gather as a family. So this year people are feeling like, 'This is the first time we're having this big dinner for the last two years, so let's make it a big one.' People are ready to spend and splurge."
Singapore's Chinatown is a necessary destination for red envelopes and other Lunar New Year goodies, but seasonal cheer can be found in abundance in the broader Chinatown area. Beautiful lanterns line New Bridge Road and Eu Tong Sen Street, and a larger-than-life lit-up family of eight rabbits towers over one of its major intersections. Other key stops in the neighborhood around Lunar New Year include Lim Chee Guan for bak kwa, jerky-like barbecued meat slices that people queue for hours to buy as prized New Year gifts; Spring Court for the local customary yusheng, a kind of raw fish salad that's communally tossed in the air with chopsticks; and Yue Hwa Department Store for a new outfit. Other popular stops include Eu Yan Sang for traditional Chinese medicine gifts to promote health in the new year, as well as the acclaimed bar Native, an ideal stop for a breather from all the hubbub, with innovative cocktails featuring sustainable, local ingredients.
Plus, just down the road from the Buddhist Tooth Relic Temple on Sago Street itself are a mosque and a Hindu temple—making it the only Chinatown in the world with all three on a single street, fitting for the world's most religiously diverse nation. "One beautiful thing about our society is that different races and religions live and work and party together," said Toh, who himself was planning to celebrate the harvest festival Pongal with Hindu friends a few weeks before Lunar New Year.
That unifying festive spirit permeates through all of the area's attractions and establishments, including Sago Street itself—and provides perfect opportunities to part with your red-envelope bounty any time of the year. After all, tradition says the real value and power is held within the small but mighty envelope itself, with its cardinal color bestowing energy, happiness, and luck.
More Lunar New Year shopping streets to visit
Prepping for Lunar New Year is as much of a tradition as the holiday itself. There's no better place to shop for all the essentials than on these streets around the world—from Taipei to Paris—that offer the most festive necessities, from red envelopes and lucky decor to traditional candy and rice cakes.
Dihua Street, Taipei, Taiwan
Full of old-world charm, this street and surrounding lanes in the historic Dadaocheng commercial area is ground zero for Lunar New Year shopping in the Taiwanese capital, hosting a massive holiday market that attracts around a million people annually. Amid riotously colorful lanterns and banners, wall-to-wall crowds peruse street food, fireworks, fabrics, crafts, teas, and medicinal herbs in a lively atmosphere: Hawkers wearing mics holler for attention, and samples are given liberally. And if shopping doesn't get your heart rate up: At the stroke of midnight on New Year's, locals jostle at temple doors before racing to place the first stick of incense, a practice believed to bring good luck (in addition to cash and prizes).
Mott Street, New York City
The Lunar New Year spirit runs strong through Mott Street in Manhattan's sprawling Chinatown—home to the largest concentration of Chinese in the Western Hemisphere—with gift shops run by generations of families to tea purveyors and florists, according to neighborhood walking-tour guides Mott Street Girls. Don't miss the storefront of New Year's wares at 126 Mott Street, which doubles as a laundromat, points out Chinatown activist Grace Young. The bustling area teems with stores and eateries, with families gathering round tables in opulent banquet halls and students and tourists lining up for a quick, affordable, delicious meal, or an Instagrammable treat.
Avenue d'Ivry, Paris
The oldest and largest Chinatown in Europe can be found in Paris's southern 13th arrondissement. Sitting within a triangle formed by Avenue d'Ivry, Avenue de Choisy, and Boulevard Masséna, the Quartier Chinois lies in the shadows of eight Corbusian residential high-rises, built in the 1970s just in time for a post–Vietnam War influx of immigrants from Vietnam, Cambodia, Laos, and China that bestowed the area its wonderfully pan-Asian feel today. For red envelopes, walk along Avenue d'Ivry, stopping in at the stalwart Tang Frères supermarket or wandering the Olympiades shopping center. Patisserie de Saison's Lunar New Year pastries and sweets, crafted in the birthplace of the patisserie, are a must-try.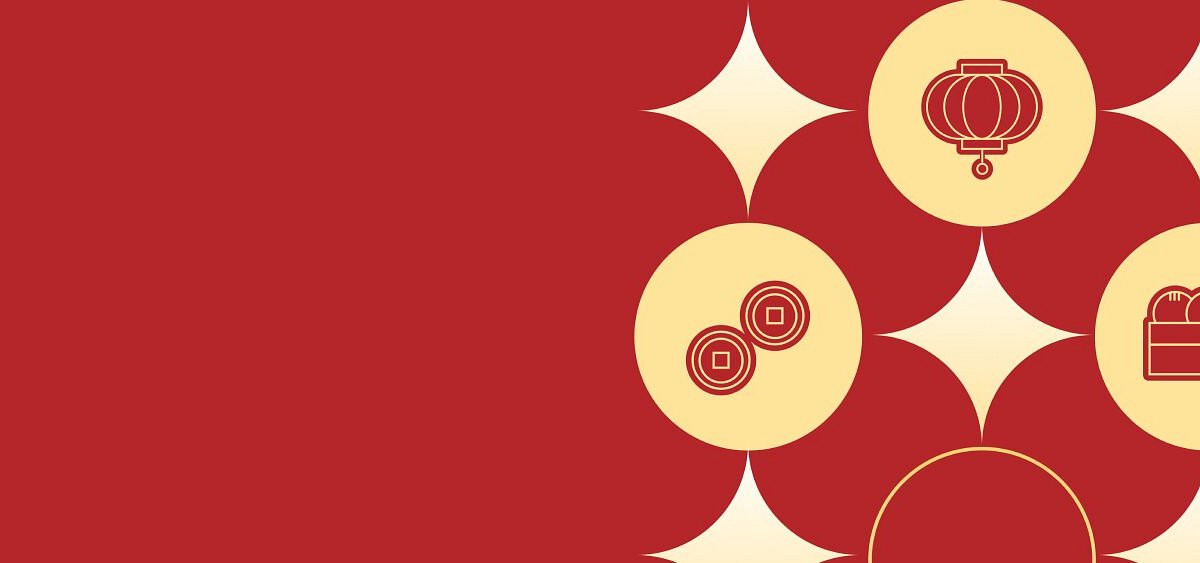 The Lunar New Year Guide
There are so many different ways to celebrate—here's how to get started.
Read more