Vegan-friendly hotels around the world
These hotels offer animal-free cuisine and more.

By Amber C. Snider

11 Nov 2022 • 4 minutes read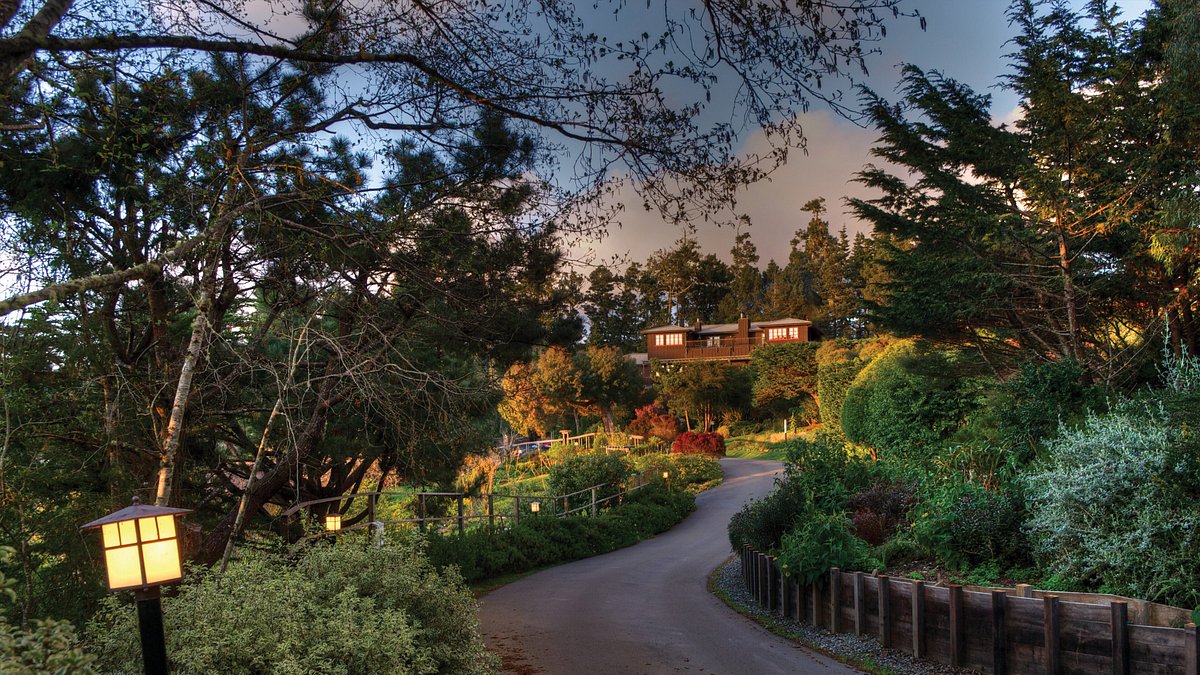 Since Hilton London Bankside debuted its first vegan-friendly suite in 2019—swapping goosefeather pillows for organic buckwheat and millet seeds, ditching plastic keycards, and using furniture made from pineapple fiber instead of leather—other hotels have jumped on board the vegan hospitality train. The only drawback to that room was the cost, which was significantly more than a regular suite at the hotel. The good news is, there are more vegan-friendly hotel options popping up around the world, at a variety of price points, offering more than just animal-free cuisine.
While it's still a relatively new trend in the travel industry, these seven spots are paving the way for more vegan hotels in the future by embracing eco-conscious materials, organic toiletries, stellar wellness amenities, and plenty of plant-based nosh.
The Farm at San Benito, City of Lipa, The Philippines
A Travelers' Choice Award winner, The Farm at San Benito is a luxurious wellness retreat in The Philippines, complete with holistic treatments, total nature immersion, and an award-winning menu that is 100 percent plant-based. Located in the Batangas region, guests can choose between jungle-style, garden, or pool accommodations and consult wellness specialists for holistic integrative medical services during their stay. Their all-inclusive programs include hydrotherapy, spa treatments, mindful movements, holistic detox cleanses, yoga and raw food retreats, postnatal care, and more. The on-site Alive! Restaurant has already won over nine international awards (including several Asia SPA Awards for Cuisine of the Year) for their raw food and vegan options made with hand-picked ingredients from The Farm's organic gardens.
Stanford Inn by the Sea, Mendocino, CA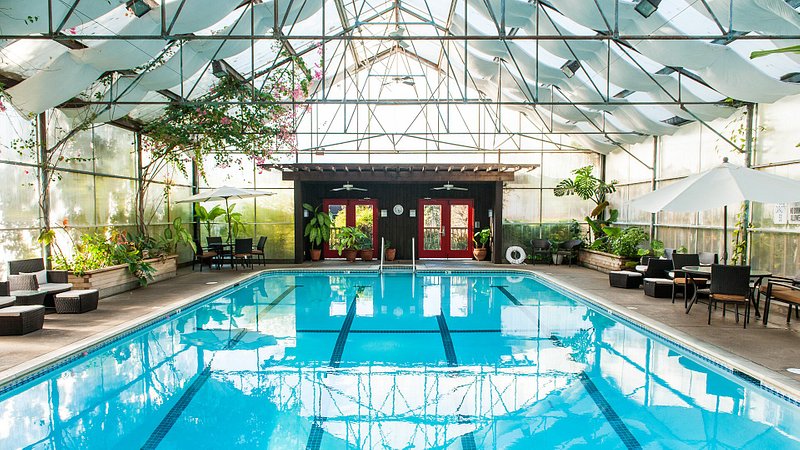 The Stanford Inn by the Sea in Mendocino, CA, is the ultimate vegan-friendly beach hotel with plant-based fine-dining experiences. Their breakfast and dinner menus are composed of creative dishes using locally-harvested ingredients that even meat-eaters will love (sea palm and root vegetable strudel, anyone?), as well as a decent selection of biodynamic, organic wines. The eco-conscious hotel also composts all food wastes and offers a variety of classes in cooking, meditation, Chinese medicine, Tai Chi, yoga, gardening, and more. Wellness amenities include plant-filled lounge areas, a salt-water swimming pool inside a large greenhouse, and a dry sauna, but for outdoor experiences, there's also the nearby Big River Beach and Headlands State Park. For a full vegan experience, Stanford Inn by the Sea also offers four-night vegan retreats, where guests can learn about plant-based living, receive complimentary copies of vegan cookbooks, and take vegan cooking classes.
Dreamers by Dreamers Welcome, Wilmington, NC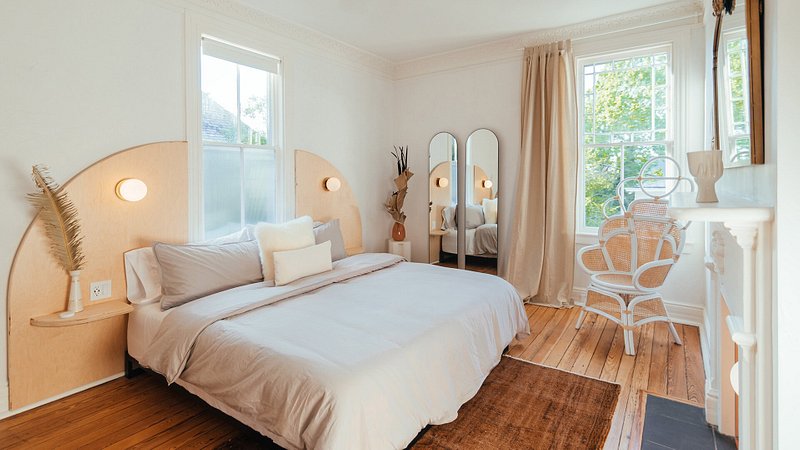 A surprising find in the heart of downtown Wilmington, NC, Dreamers Welcome offers a complimentary, seasonal vegan breakfast every morning, as well as eco-friendly designer toiletries in their beautifully appointed rooms (think: airy, spacious, modern). They also offer wellness amenities like aromatic oil diffusers and custom-made essential oils in each room and pride themselves on "invisible service," so you're bound to find peace and quiet within the renovated Victorian hotel. This three-star boutique gem is also paperless, uses minimal plastic, and has plenty of plants and artworks throughout its inviting green spaces.
Gaia Retreat, New South Wales, Australia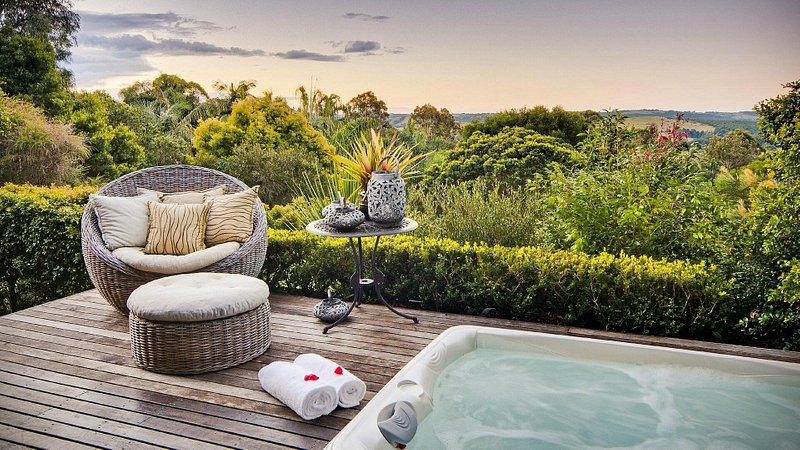 Set on 20 rustic acres, this vegan-friendly boutique hotel offers stunning views of the subtropical gardens of Bundjalung Country and all-inclusive cuisine during your stay. About 2.5-hours south of Brisbane, Gaia Retreat has 22 bungalows, suites, and villas and serves up seasonal, organic produce from its own garden and local farmers. While its meals include non-vegan options, all meals and snacks can be made vegan (some recent examples include gluten-free penne pasta with roast pumpkin, radicchio, zucchini, and preserved lemon for lunch and dairy-free black sesame ice cream with mango and coconut for dessert). Wellness amenities include the Samadhi Yoga studio, Viha (Sky) Fitness Centre, spa treatments, and naturopathic consulting to revitalize and restore the mind, body, and spirit in an eco-conscious environment.
Mother Earth Vegan Hotel, Tamarindo, Costa Rica
Located near Tamarindo Beach on Costa Rica's western coast, Mother Earth Vegan Hotel is the first of its kind in the country. Nosh on globally-inspired, seasonal, plant-based cuisine like rainforest salad with passion fruit dressing and grilled kebab skewers made with Beyond sausage marinated in Caribbean mojo at the saltwater pool or in between yoga sessions. It's a hotel experience "without the expense of animals or the planet," according to the property, and every detail from the furniture to the restaurant keeps that principle top of mind.
SCP Redmond, Redmond, OR
Soul Community Planet (SCP) Hotels offer fair-priced lodging with a focus on wellness, the environment, and holistic hospitality. Located three hours from Portland in Central Oregon, the SCP Redmond location has an on-site Terra Kitchen doling out plant-forward, Mediterranean-style meals with many ingredients grown right on their rooftop garden. Signature dishes include the farm vegetable paella and vegan crème brûlée cheesecake with medjool dates and walnut crust topped with marionberry compote. While they do serve some dairy and meat dishes, most farm-to-table menu items can be prepared vegan and SCP has a goal to become 100 percent vegetarian.
There's also the on-site Wayfarer Club, a lounge offering tavern-style small plates with plenty of vegan options from which to choose (like the beluga lentil and date salad or jackfruit tacos), as well as Provisions Market which serves plant-forward, locally-sourced food and drinks. But the wellness vibe doesn't stop at the cuisine: all SCP hotels use eco-friendly materials in their renovations and cleaning products, energy-efficient systems, and solar power, and have designated "Peaceful Rooms" (equipped with yoga mats, a meditation pillow, sound machine, and essential oils) designed specifically for relaxation, clarity, and rest in a distraction-free area.
Agriturismo Coroncina, Belforte del Chienti, Italy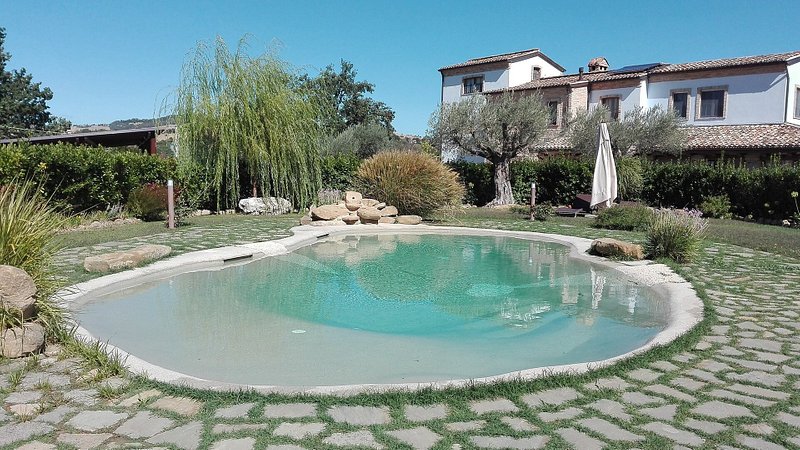 What began with vegetarian cooking at Agriturismo Coroncina has since evolved to Italian vegan cuisine made entirely from ingredients sourced on the property or local producers. Located in the Le Marche countryside of Italy near Sibillini Mountains Park, the charming farmhouse hotel is eco-friendly at every turn, like green building materials and solar paneling. Expect minimalist, rustic décor with exposed brick and stonework, organic soap products, and a bio pool built with resin for a low environmental impact. The bucolic property includes nearly 20 acres of organic goods, including a seasonal vegetable garden, 100 fruit trees, and some 500 olive trees. To amp up the TLC factor, be sure to treat yourself to an ayurvedic massage. Then, we'll see you at the infrared sauna and detox bath.