Santorini's best wines: A bottle-by-bottle expert guide on what to order

By Amelia Ang

3 Aug 2022 • 5 minutes read
There's nothing better than enjoying a glass of wine while admiring Santorini's iconic sunsets. After all, it's been said that the best wine in Greece can be found in Santorini. Full of character and intriguingly briny, Santorini's wine has been praised by American wine critic Eric Asimov for its terroir (sense of place).
What makes Santorini wine so special? Thousands of Santorini-made bottles have been exported throughout the Mediterranean since the Middle Ages, and many of the vines and roots you see today have been around for centuries. Thanks to the island's volcanic soil, Santorini wines are high in acidity, and pests like phylloxera are unable to survive.
To combat the strong winds and harsh sunlight that are typical of the Cyclades, Santorini's winemakers developed an innovative method known as the kouloura (coil). The vines are trained low to the ground and weaved into a basket-like shape, sheltering the grapes within.
With such an extensive variety of wines, it can be difficult to decide which wine to order while you're in Santorini. We recommend visiting the island's wineries and vineyards to get acquainted with the island's range of wines. Santorini is also home to the Koutsoyannopoulos Wine Museum, where you can embark on an underground tour to learn about the history of wine-making.
1. Assyrtiko
Assyrtiko is the centerpiece of Santorini's wine industry, covering most of the island's vineyards. While Assyrtiko is also grown on other Greek islands like Crete and Paros, Santorini's Assyrtiko has its own distinct taste. Its roots reach deep into Santorini's ash-rich soil, creating the wine's characteristic earthiness. Crisp and acidic, this dry white wine is best enjoyed with fresh Greek salad.
To learn more about Assyrtiko's production process, join this highly-rated small-group vineyard tour. We recommend stopping by Santo Wines Winery at sunset, where you can sip on an award-winning glass of Assyrtiko while gazing out at the caldera.
2. Vinsanto
Vinsanto is a sweet dessert wine, produced from overripe white grapes. Not to be confused with the Vin Santo (holy wine) made in Tuscany, Vinsanto's name originates from the phrase "vino di Santorini" (wine of Santorini). To make Vinsanto, grapes are spread and left to dry in the sun, then aged in oak barrels. This process creates a concentrated wine with rich aromas of coffee, caramel, nuts, and dried fruits.
Vinsanto typically consists of Assyrtiko and other white grapes such as Athiri or Aidani—this blend differs from winery to winery, though at least 51% of the grapes must be of the Assyrtiko variety. As a dessert wine, Vinsanto goes well with chocolate, cheese, dried fruit, and traditional nutty Greek desserts such as baklava. Lolita's Gelato also serves Vinsanto ice cream.
Join a wine tour to visit Domaine Sigalas, one of the world's top wineries. Domaine Sigalas' Vinsanto has swept more than 10 awards from international wine competitions; harvested from Assyrtiko and Aidani vines that are over 60 years old, the resulting wine is complex with a strong aftertaste.
3. Mavrotragano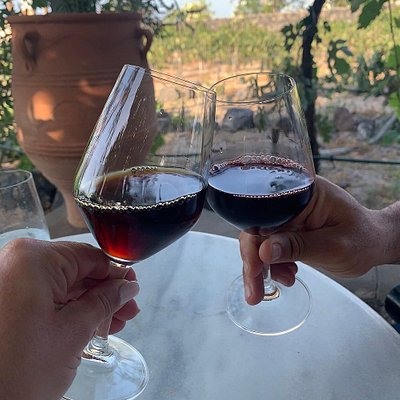 Named for its black (mavro) and crisp (tragano) berries, Mavrotragano is a red grape that is native to Santorini and is grown almost exclusively on the volcanic Greek island. While Mavrotragano is prized as a high-quality dry red today, this dark-skinned grape once came close to extinction.
As Mavrotragano produces low yields that mature quickly, many winemakers preferred to plant the more lucrative Assyrtiko instead. However, in the late 1990s, Mavrotragano experienced a comeback when renowned winemakers Haridimos Hatzidakis and Paris Siglas began producing monovarietal, dry versions of the wine. Today, locals enjoy pairing Mavrotragano with red meats, spicy dishes, and flavorful appetizers like papoutsakia (Greek stuffed eggplant).
Try this cult-status wine in the iconic Hatzidakis Winery, where you can savor Greek snacks with each pour. Harvested by hand, fermented at controlled temperatures, and aged in oak barrels, this unfiltered red wine has a smoky, mineral taste reminiscent of bitter chocolate.
4. Mandilaria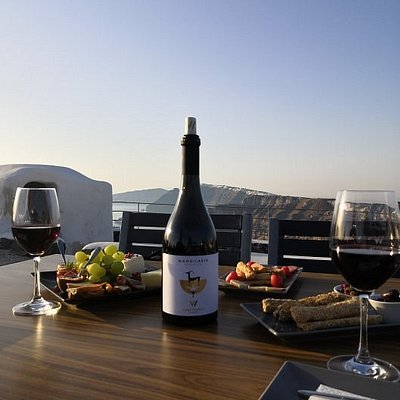 A dark red grape, Mandilaria is the second most planted variety on Santorini, producing light-bodied, deep-colored wines. Because of its high tannins, low alcoholic content, and tendency for astringency, Mandilaria is often blended with other varieties like Mavrotragano. When aged, Mandilaria gains complexity, becoming more aromatic and flavorful. Experts suggest waiting eight to 10 years to reach Mandilaria's optimum point of consumption. Dark and rich, Mandilaria pairs well with Greek lamb meatballs.
Carved in the cliffs of Santorini, Venetsanos Winery offers a rare unblended Mandilaria, recognized for its earthy character that reflects the distinctive terroir of Santorini. Join this private wine tour to end your day with a sunset photoshoot at this picturesque winery.
5. Voudomato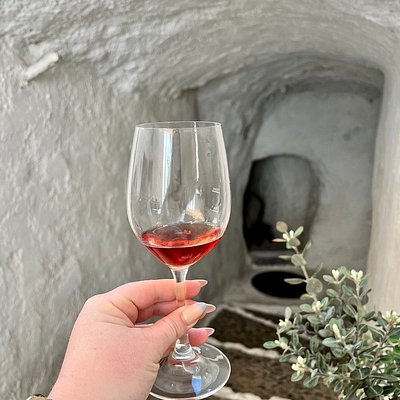 Voudomato is a rare red-wine variety that makes up 1% of Santorini's vineyards and is characterized by fruity aromas like cherries and pomegranate. This refreshing wine boasts smooth tannins and pleasant acidity and melds well with tomatokeftedes (Greek tomato balls). Voudomato is commonly paired with Mavrotragano and Athiri to create a smooth blended wine with a distinctive nuttiness. Its grapes can also be sun-dried and fermented with yeast to create a rich, sweet dessert wine.
You won't find this rare rose wine at just any restaurant or vineyard. This small-group tour will take you to the traditional village of Megalochori to visit Gavalas Winery, which focuses on indigenous rare varieties like Voudomato.
6. Aidani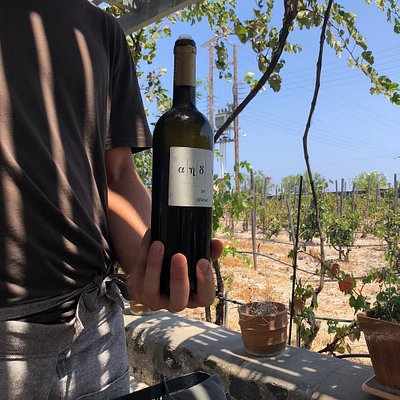 Aidani is a white grape found primarily in the Greek islands of Santorini and Rhodes. Covering about 5% of Santorini's vineyards, Aidani produces a pale, medium-bodied floral wine. Aidani grapes are often blended with other varieties to add complexity and consistency; the white blend known as Brousko is a mix of Aidani and Assyrtiko. To produce pure Aidani wine, the grapes have to be harvested at different times to create a good balance of acidity and aroma. Aidani is best enjoyed with a pre-meal snack like kolokythakia tiganita (Greek fried zucchini).
7. Nykteri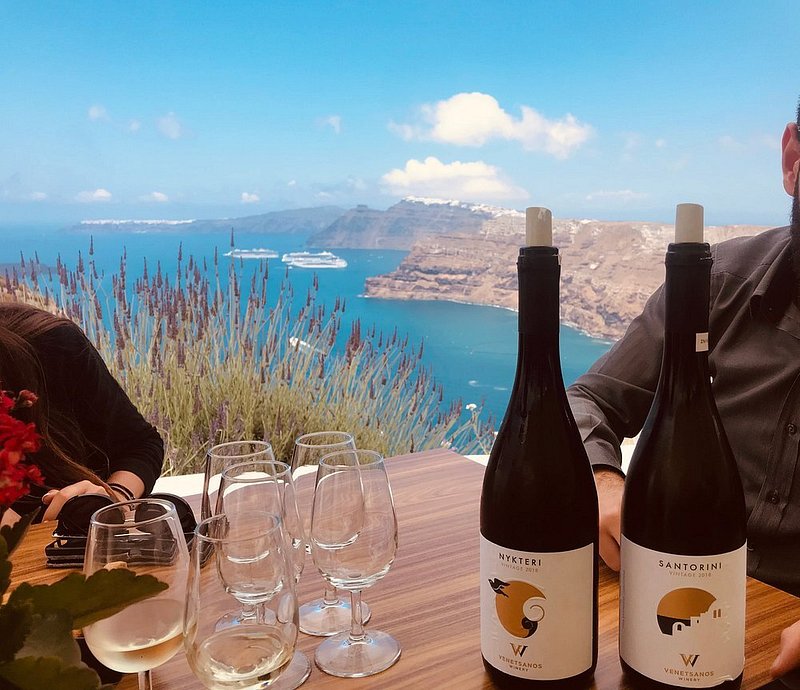 Nykteri, which means "working the night away" in Greek, is an age-old method of winemaking in Santorini. Per tradition, ripe Assyrtiko, Aidani, and Athiri grapes are harvested before sunrise, pressed, and aged in oak barrels. Rich with an intense honeyed flavor, Nykteri is a dry wine that has been popular since the early 19th century and is typically eaten with grilled lamb and pita bread.
This wine-tasting road trip makes a stop at Gaia Winery, located by a black sand beach. Gaia produces Nykteri with a modern twist, fermenting and aging the wine in different kinds and sizes of barrels to imbue a variety of flavors. We also recommend taking a trip to Estate Argyros, a historic winery that makes its Nykteri with 100% Assyrtiko, strictly selected from vineyards that are more than 150 years old.