8 supremely cozy Chicago speakeasies (and how to find them)
When the weather gets frightful, these bars are where you want to be.
By Meena Thiruvengadam

14 Nov 2022 • 4 minutes read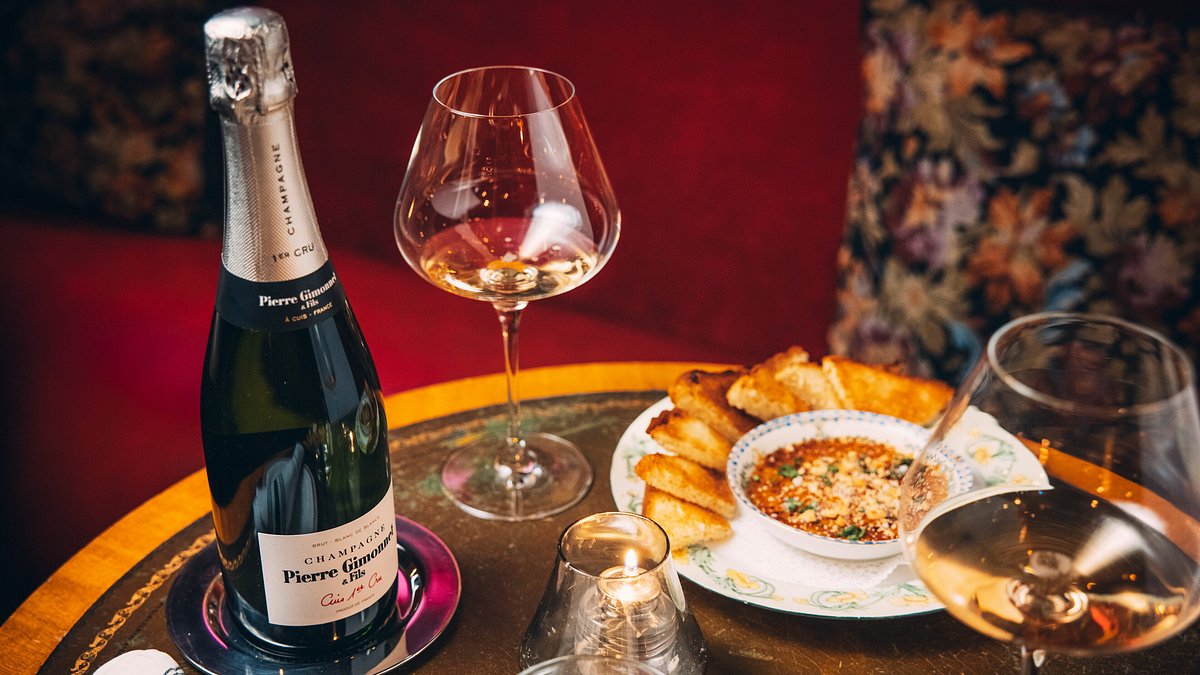 As the cooler temperatures set in, it signals a new phase of nightlife for Chicagoans (and visitors): speakeasy season. There are a number of gems hidden in plain sight and spread across the city, from Chinatown to the Loop and beyond. Something to keep in mind: Most Chicago speakeasies are open Wednesday through Sunday evenings, so you'll want to plan accordingly. Many recommend reservations.
So go ahead; walk through that secret door, up those mysterious steps, and into that seemingly-normal barbershop. You really never know what you might find on the other side.
The Drifter, Downtown Chicago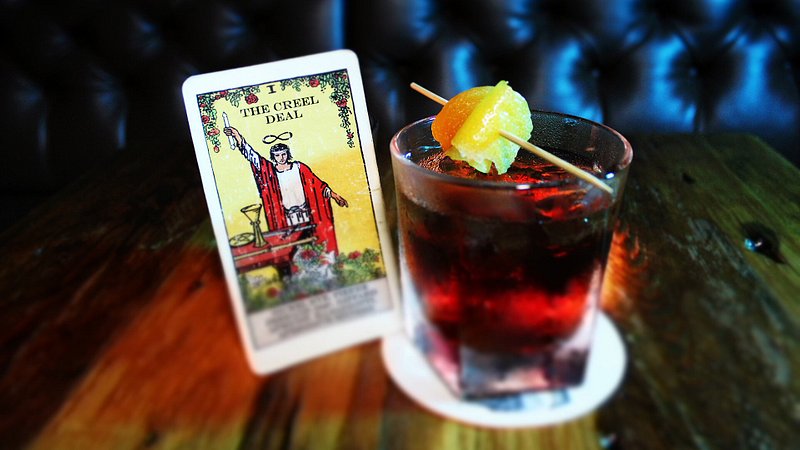 If you can only make it to one Chicago speakeasy, make it this one. The Drifter is the real thing—a speakeasy hidden within a 100-year-old bar in the downtown neighborhood. The speakeasy's home, the Green Door Tavern, can trace its history to prohibition-era America, a time at which green doors signaled the presence of a secret speakeasy somewhere on the premises. The Drifter, whose entrance is hidden behind a bookshelf, takes everything up a notch with its creative cocktail menu. Recipes are printed on custom tarot cards and bartenders draw the evening's menu each night. The Drifter also hosts burlesque shows and other live performances. Funnily enough, the Drifter's bookshelf door isn't green, but there is a sign to help you find your way.
Golden Teardrops, Logan Square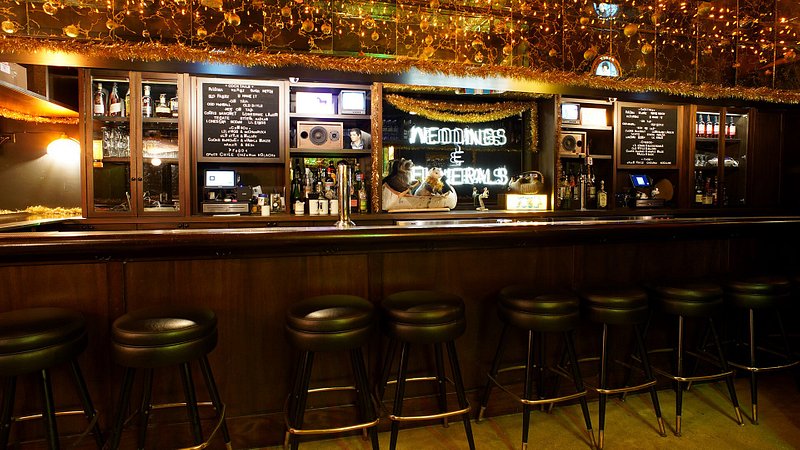 Head down the stairs in the middle of the restaurant at Lonesome Rose in hip Logan Square and you'll find a speakeasy that'll make you feel like you've walked into a Wes Anderson movie. Golden Teardrops is dark and intimate—and serves up delicious drinks. The menu is small, but don't fret if you don't see something you like. The bartenders at this unpretentious spot are experts at crafting off-menu cocktails. And if you get hungry, head upstairs for delicious nachos and some of the best Tex-Mex–style queso in town.
Soif Wine Lounge, Logan Square
Before you head downstairs to this hidden gem, pronounced "swaf," consider dinner at Testaccio, the Michelin-listed southern Italian restaurant upstairs. If you're looking for menu guidance, TripAdvisor reviewers applaud the cacio e pepe and Roman artichokes. After dinner, head downstairs and you'll find yourself transported to a speakeasy-style wine lounge with red velvet banquettes and an extensive craft cocktail menu. This Parisian-style hideaway carries a variety of Belgian beers, wines, and champagne, and also serves a French menu that includes escargot, caviar, and foie gras brûlée. To get here, walk down the unmarked staircase near Testaccio's patio.
Brando's Speakeasy, Chicago Loop
Believe it or not, this is a karaoke bar. But walk past the people singing their hearts out and into The East Room of Brando's Speakeasy, and you'll find yourself in a cozy cocktail lounge that hearkens back to the roaring '20s. Try a root beer old fashioned, a boulevardier, or a twist on a local favorite, the Malort spritz. There's a wide selection of local beer and a simple menu of pizza and more. The East Room may be the easiest speakeasy in the world to find—just look for the quieter bar within Brando's.
The Milk Room, Grant Park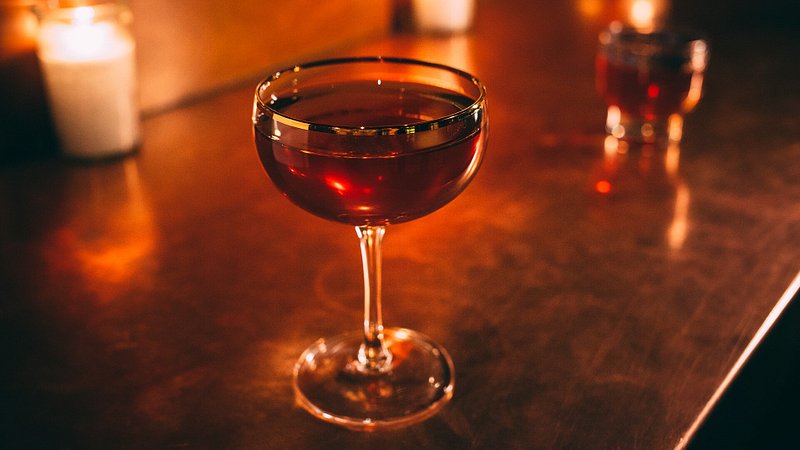 You'll want to save up for a visit to The Milk Room, a tiny bar in the historic Chicago Athletic Association building. The bar itself traces its history to the 1800s, a fact that's manifested in its exposed brick and historic fixtures. During prohibition, this is where Chicago Athletic Association members bought their alcohol. Nowadays, the eight-seat bar prides itself on high-end, spirit-forward cocktails that masterfully incorporate rare, vintage spirits. Expect to spend between $30 and $100 each for cocktails. Rare and vintage spirits are also available by the pour. TripAdvisor reviewers love the space and its expert bartenders—in fact, never hesitate to discuss your drink budget with the bartender for an unforgettable cocktail at any price point. You'll find the Milk Room on the second floor of the Chicago Athletic Association hotel just outside The Drawing Room.
What one reviewer said:
"...They offer 1/2 ounce and 1 ounce pours so you can try some amazing stuff without being afraid of the check! Sam poured us a great selection of bourbons within our affordability range and we loved it."
Nine Bar, Chinatown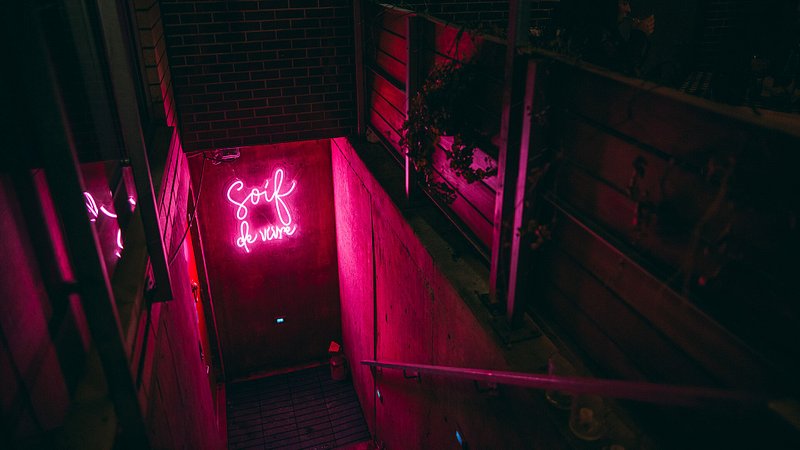 Next up on this speakeasy tour of Chicago is Chinatown, where you'll find Nine Bar stashed behind the Chinese takeout counter Moon Palace Express. On the outside, this looks like any other Chinese restaurant. But inside you'll find one of the best cocktail bar in Chinatown. Nine Bar's cocktail menu includes baijiu, soju, and shochu-based drinks, and incorporates things like barley tea, the Japanese yogurt drink Calpico, and Sichuan peppercorns. The food menu is limited to about a dozen snacks, and many of them are vegan. The best part: You can always pick up takeout as you exit. (TripAdvisor reviewers recommend the Peking duck and the orange chicken.) Head through the doors in the back of the restaurant to find the bar.
Blind Barber, Fulton Market
Come for a haircut. Stay for a drink. Blind Barber is a barbershop by day and a cocktail lounge by night. Walk past the barber chairs and you'll find yourself in a hidden bar complete with plush couches, wood paneling, and a vintage cigarette vending machine. Choose from pop culture–inspired signature cocktails like Strawberry Fields, Batman, and Adult Swim. There's a small snack menu—chicken tenders, crab rangoon, and fries—but you're really here for the drinks. Walk straight through the barbershop's backdoor to find the bar.
Bordel, Wicker Park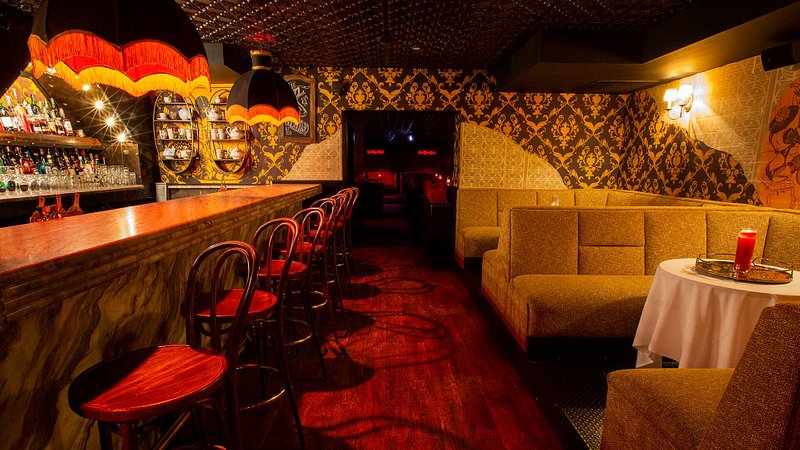 If you're looking for more Parisian vibes, head to Bordel, where you'll feel as if you've entered a cabaret in Montmartre or Pigalle. Walk up the leopard-print stairs, and you'll discover a candlelit den that doubles as an ode to American pulp covers. Bordel's specialties are the punch—which is served in Royal Albert tea sets—and the entertainment, which includes live jazz, burlesque, flamenco, and even fire-eating. Go ahead and bring your friends for a tea party you'll never forget. To find this spot, you'll want to walk up the staircase next to Mama Delia, which is directly downstairs.