5 extraordinary cliffs in Ireland, beyond the Cliffs of Moher
From wind-swept headlands to moody overhangs, Ireland's famous cliffs offer unmatched beauty.

By Esme Benjamin

23 Jan 2023 • 2 minutes read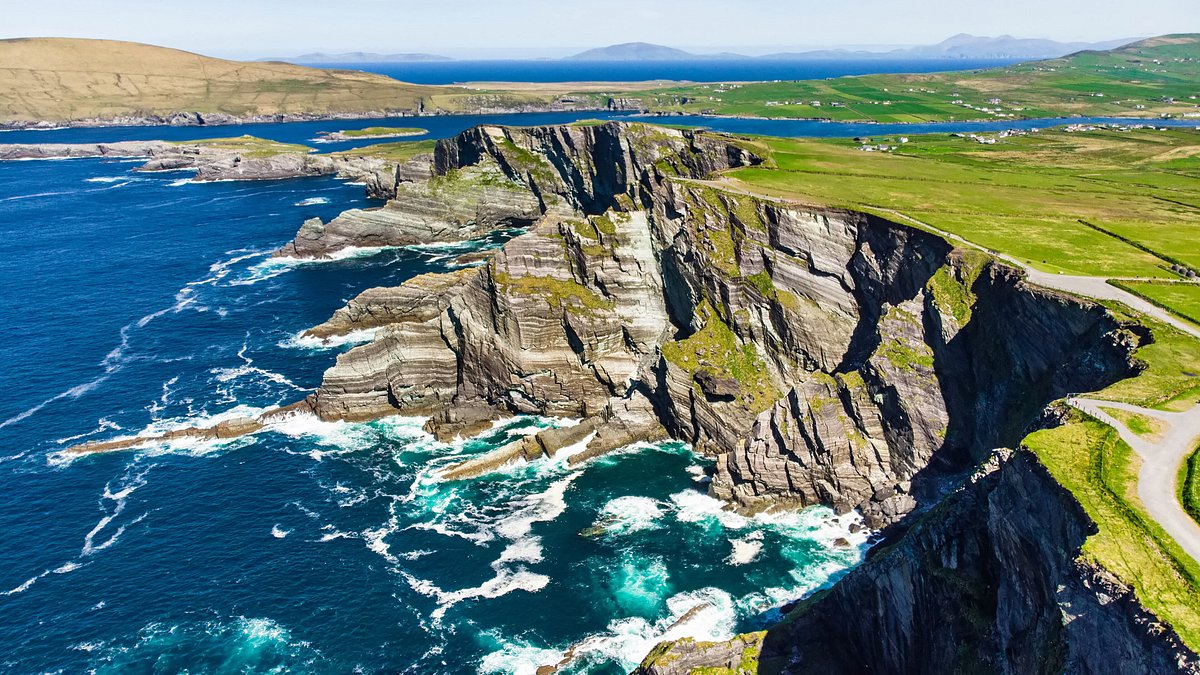 A long-time favorite of Hollywood location scouts, the Irish coastline has a cinematic quality that's instantly beguiling. Sunbathing weather may be scarce around these parts, but the untamed scenery, defined by rugged cliffs that tower over the Atlantic Ocean, more than compensates.
The massive Cliffs of Moher are among Ireland's most famous natural features—you might recognize them from movies like The Princess Bride and Harry Potter and the Half-Blood Prince—but they're hardly the country's only striking cliffs. Below, we've rounded up five of the most extraordinary cliffs in Ireland (and two bonus options in Northern Ireland), beyond the Cliffs of Moher, that exemplify the countries' natural beauty.
Cliffs to visit in Ireland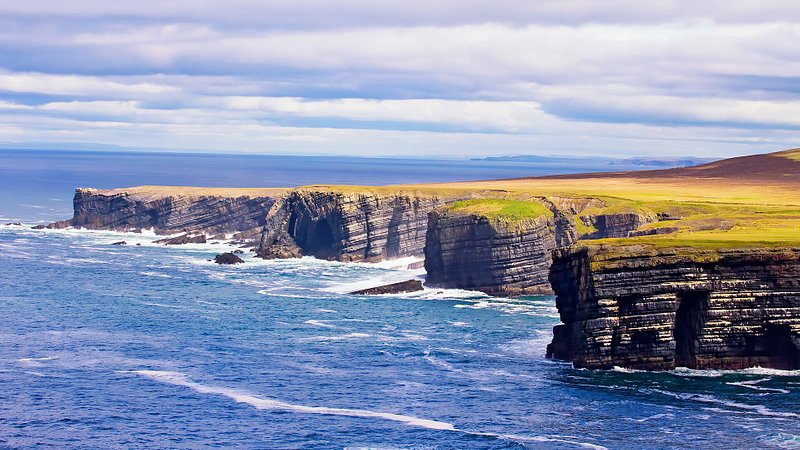 Cliffs at Loop Head, County Clare
One of the most popular stops along the Wild Atlantic Way drive, the Loop Head headlands are both stunning and historical. Highlights along the cliffs include the Loop Head Lighthouse, hovering above the River Shannon; the last of three sea arches known as the Bridges of Ross; and Diarmuid and Gráinne's Rock, a sea stack that, according to Irish folklore, served as a hideout for Gráinne and her lover, Diarmuid, after she ran away from her arranged marriage.
Cliffs of Inishmore, Aran Islands, County Galway
Perched over the churning Atlantic Ocean, the moody sea cliffs on Inishmore—the largest of the three Aran Islands in Galway Bay—are home to Dún Aonghasa, a prehistoric fort thought to be 3,000 years old. Composed of three dry-stone defense walls, fortified by a band of jagged stones known as a chevaux-de-frise, it's as historically significant as it is breathtaking. Excavations have revealed evidence of prehistoric metalworking as well as several burial sites.
Kerry Cliffs, County Kerry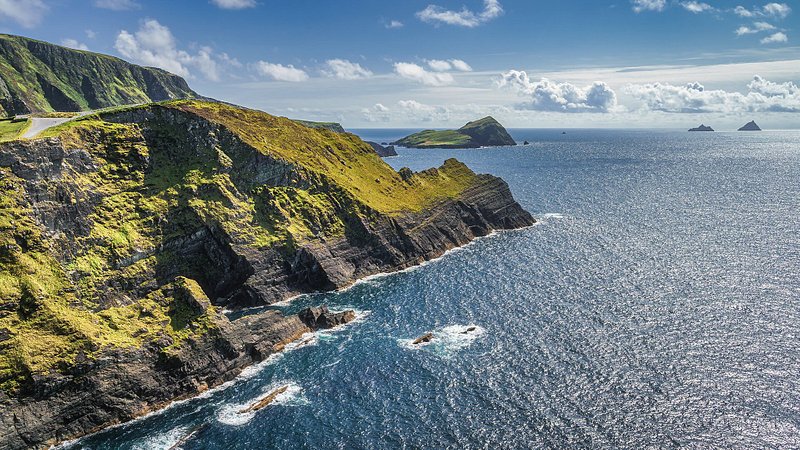 Located in one of Ireland's less-touristed areas, the 1,000-foot-tall Kerry Cliffs were formed in a desert environment 400 million years ago. From the edge, you can see for more than 30 miles along the spectacular coastline dotted with seabirds. When you've had your fill of views, take a boat over to the Skellig Islands, a former monastic village and UNESCO World Heritage site where Star Wars: The Force Awakens was filmed.
Cliffs at Bull Rock Island, County Cork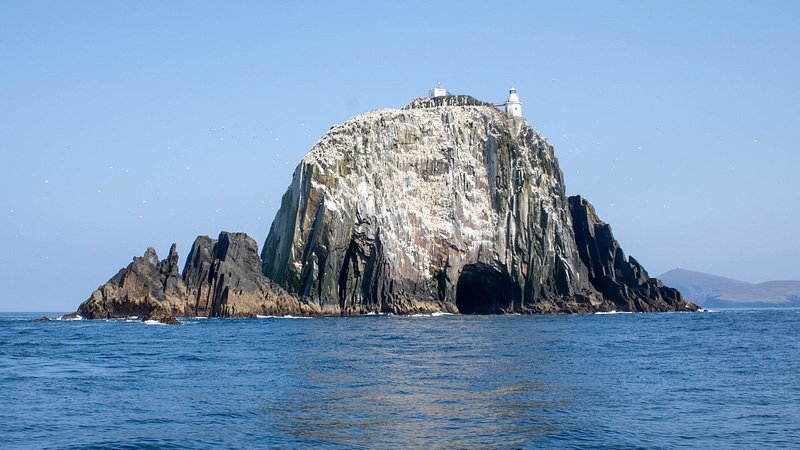 Many visitors to West Cork take Ireland's only cable car to the enchanting Dursey Island, but only a few add Bull Rock Island to their itineraries. The uninhabited isle is famous for its abandoned lighthouse and a tunnel, known as "The Entrance to the Underworld," that runs through a cliff face. Though you can't actually set foot on the island, you can take a boat tour from Dursey Island that goes around Bull Rock and through the tunnel so you can get a feel for its unique cliffs.
Cliffs to visit in Northern Ireland
Fair Head Cliffs, County Antrim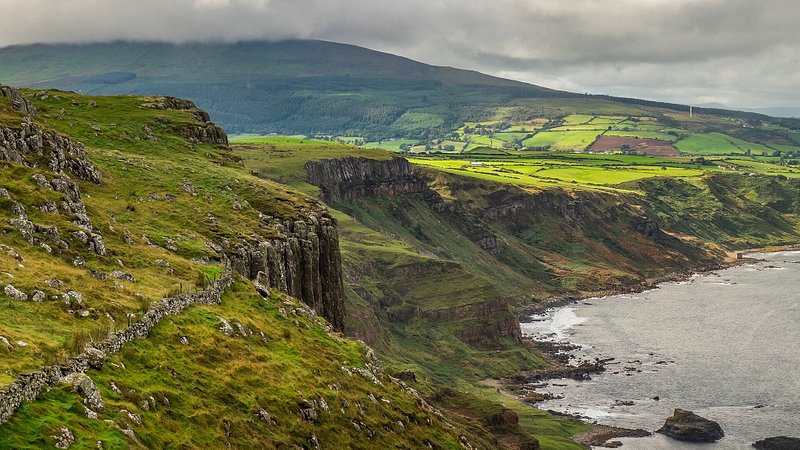 Located east of Ballycastle Beach on County Antrim's northeast coast, the Fair Head Cliffs are a favorite spot for rock climbing and abseiling. Three marked trails lead hikers past rugged farmland and windswept cliffs—scenery that Game of Thrones fans might recognize from season seven of the show. Note: the Fair Head Cliffs sit on privately owned land, so expect to pay a small fee for parking.
Cliffs at Whiterocks Beach, County Antrim
On any given day, travelers flock to Portrush, where miles of golden sand form one of the region's most scenic coastal areas. Whiterocks Beach stands out thanks to its backdrop of limestone cliffs. Rent a wetsuit and board (the surf here is decent), take a stroll along the headland, or picnic at the foot of the cliffs and enjoy some people- and dog-watching.