Ocean World Adventure Park, Puerto Plata
Ocean World Adventure Park, Puerto Plata
About
Ocean World Adventure Park, is the most complete entertainment complex of the Dominican Republic, located in Cofresi Beach,just 3 miles west from the town of Puerto Plata. Ocean World Adventure park is the most advanced interactive marine park of its kind. Guests will have the opportunity to touch, pet and feed all their favorite animals and mammal friends, including dolphins, sea lions, sharks, stingrays, exotic tropical birds; walk through rain forests and much, much more! Truly an experience of a lifetime.
Duration: More than 3 hours
Does not meet animal welfare guidelines
Tripadvisor does not provide bookings for this experience because it does not meet our animal welfare guidelines.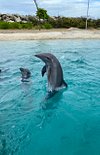 See what travellers are saying
Lifelong Memories Made at Ocean World

We stayed just up the hill from this amazing water park at the lifestyles resort. We came and spent a fun-filled day seeing all the shows and enjoying the surprisingly food in the cafeteria. It has always been a dream of my sister to swim with dolphins and Ocean World made that dream a reality. Special thanks to our guide John Rivera who spent the entire day with us and escorted us from activity to activity and helped us to stay on a schedule that allowed us to experience nearly everything in the park. For the dolphin experience my sister was aided by Yeury and Enock who were very safety conscious and allowed her to interact and learn as much as possible in an afternoon. Every employee at Ocean World endeavors to treat the animals and the park"s guests with the utmost care and respect for their well being. This truly is one of the most outstanding memories we have from any of our vacations anywhere.

Written 25 December 2022

Fantastic place

Great place to visit, lot of attractions. Kids will love exhibitions, wild animals, sharks, dolphins, birds. The can swim in an special pool with fishes and other animals. Very safe and enjoyable. Food is decent but expensive. My kids, 13 & 9, loved the experience We will return next in 2023 when we visit Puerto Plata again.

Written 2 January 2023

Amazing Experience!

We booked Ocean World through the cruise ship that we were on. Although there were a lot of people that were going, they were organized in getting everyone on/off the busses to Ocean World. It was only an estimated 10-15 minute drive from the cruise terminal to Ocean World. Despite other comments posted, I found the place to be well kept, clean and easy to navigate. My two children participated in the dolphin encounter and really enjoyed it. We were able to purchase a couple of great photos after it. My 3 year old son was chosen to be the "star" dolphin 'trainer', which was an amazing, once in a lifetime experience. We cannot thank Ocean World enough for this experience. My children also enjoyed the opportunity to feed birds out of their hands and to snorkel with a large variety of fish. We only wish that we had more time to see all of the shows and to play at the water beach area. We unfortunately didn't catch the names of everyone that helped make the day a special one. We do appreciate Robin's helpful suggestions that he gave to my parents.

Written 3 January 2023

Nice little! park for a short visit with amateur elements

I'd say this park seems like a small family business, the park itself is quite small, some parts are amateur but they try to entertain at the same time so it's kind of a park you support by heart but not really wanna be there for a day :) The animal shows are nice (15 min all but try to entertain). The snorkel reef is like a big aquarium and you can swim there like 5 minutes to get arouns, nothing more and everything is artificial in it except fish (no coral, no plant), it's good for children to try snorkelling. The beach is like a family beach, if there are more than 50 people you have no space in the water at all :) All in all it's good to spend here few houra, we spent a whole day but has nothing to do at the end. Wish this park all the best to improve they are like nice amateurs in 2023 Januar.

Written 13 January 2023

Worth Every Dime

The best excursion experience out of the six day cruise. Top notch animal experience, dolphins, sea lions and sharks. As a hands on animal experience, it's the best that I've ever experienced not only for myself, but for the animals. All animals are born and raised there at the park by local native Dominicans. Very clean with good food. Every member of the family loved it. For just under $100 they take professional pictures with all your experiences, very much worth the money . Robin Santos as our guide, and the trainers that care for the animals, and help us have the experience are top-notch professionals and representatives of the younger generation of Dominicans. It is a must see and must do in the Dominican Republic.

Written 14 January 2023

Good and Bad at Ocean World

Ocean World was a mixed bag for us. On the positive side, the dolphin and sea lion shows were very entertaining. We also enjoyed interacting with the dolphins who would throw small rocks at us and wait for us to toss them back to catch. We enjoyed the birds in the bird area who would land on our heads, arms, whatever. The bird show seemed much like a "dog and pony show" with a lot of hype and simple tricks. The buffet lunch was ok - a mixture of local and American cuisine. The negative part. The seating at the shows was largely concrete benches. But the shows were not very long, so that was not a biggie. We did not like the loud music and hype that was a part of the shows. Could have done without that. Also, they were very aggressive at upselling premium experiences. The focus here is more on entertainment, rather than animal conservation.

Written 18 January 2023

Fun day!

Angel #1 was a great guide. He described the park and the activities so that we u dears told what we would be doing there. The park itself is nice. Seating is quite crowded for the early shows, but still great shows. We liked the dolphins and the sea lions shows the best. Bus Accomodations to and from the park we're good. Our driver "Almost Cute" did a great job!

Written 16 February 2023

A wonderful shore excursion overall. Great for families.

My son and I did the dolphin encounter. I did my research prior to the visit to ocean world. Ocean world has achieved a certification on animal welfare and humane treatment seal. We had a wonderful time and the dolphins were so cute. And the love birdcage was a lot of fun but make sure you bring some small bills to tip with so you can get some birdseed. The swimming with shark but we didn't try but you can watch from below which was kind of neat. Overall, our visit there was great. I recommend ocean world. The staff was very helpful. The food was not great, but you're not really going there to eat anyway so don't expect much.

Written 17 February 2023

It's not Sea World

We were cruising on the Norwegian Gem and this was one of the ship's tours. Highs were the parakeet encounter, the Dominican buffet lunch and the dolphin show. Lows were the bird and shark shows. The sea lion show was just okay. The announcers at these shows try to hype the feats that the animals perform to the point that it's almost corny. I can't remember how many times "Everybody clap your hands!" was said. They also try to upsell you for personal encounters with these animals. In fact, the shark show consisted of just watching other guests who had purchased the upsell. They do have a small beach area where you could float on tubes and then an outer area that had inflatables that you could climb on. I'm assuming that that was also an upsell because we saw no one using that. We had dragged our beach stuff and snorkel gear there only to find the facilities not great for that sort of thing, plus there really wasn't enough time to do everything, being that we had to board a bus at a set time to get back to our ship. You were expected to snorkel in a fairly small tank with other guests. I don't think so. Although they supposedly achieved certification through the global American Humane Conservation program for the welfare and humane treatment of the animals under their care, I came away with the feeling that they were being exploited because the focus here seemed more on entertainment, rather than animal conservation. The final point I'll make is that this is a fairly small park and being a Tuesday in late January, not really that crowded. Yet we had difficulty finding seats for all of the shows. I can't imagine what it's like there in peak season.

Written 18 February 2023

Dolphin ride experience at Ocean World

The young man who gave us our instructions for the Dolphin Adventure was so nice and patient. We went out in the deep water and got to pet the top of the dolphin and then he turned over for a tummy rub. Each of us went out individually and got a kiss and dance holding their flippers. He also brought us a fish and then we fed him. The greatest thrill was when you are on a boogie board and they push you sooo fast out into the lagoon. There was a young girl who was frightened to go and that nice young man worked with her until she was able to have the ride of her life. Ocean World impressed me with their employee.

Written 21 February 2023
These reviews are the subjective opinion of Tripadvisor members and not of TripAdvisor LLC. Tripadvisor performs checks on reviews.
Detailed Reviews: Reviews order informed by descriptiveness of user-identified themes such as cleanliness, atmosphere, general tips and location information.
---
---
Is this your Tripadvisor listing?
Own or manage this property? Claim your listing for free to respond to reviews, update your profile and much more.
Claim your listing
OCEAN WORLD ADVENTURE PARK, PUERTO PLATA: All You Need to Know BEFORE You Go (with Photos)
Frequently Asked Questions about Ocean World Adventure Park, Puerto Plata
---
Ocean World Adventure Park, Puerto Plata is open:

Sun - Sun 8:00 AM - 3:00 PM
Mon - Thu 9:00 AM - 6:00 PM
Fri - Fri 9:00 AM - 6:30 PM
Sat - Sat 9:00 AM - 3:00 PM

---

---

---