What is Roti Canai?
Roti Canai is arguably Malaysia's most favourite breakfast meal. A piece of dough is kneaded, thrown, flattened, oiled and cooked on a flat iron skillet. Eaten hot with either lentil, fish or chicken curry; or even with sugar or condensed milk.
  Roti Canai with Fish Curry
But what does it actually mean?
Well, "roti" in the malay language means "bread". if you enter a grocery store or market in malaysia and ask for "roti" you would get a loaf of western bread.
Opinions differ, but some say "canai" comes from the word "Chennai" which is of course the original name of the city of Madras in India (and which is of course the name it is called now again). So roti canai literally means "bread from chennai".
It was said that the dish was brought over from India by the Indian Muslims, also known as "mamaks" in malaysia. It has become synonymous with malaysia that some say it is easier to find the dish in malaysia then it is in India.
The other school of thought says that the dish is of malaysian origin. Created by the mamaks in malaysia to adapt to local tastes, people who subscribe to this story say this is why it is difficult to find this dish in india (because it is not an indian dish). "Canai" in malay cooking terms, is to stretch and flatten dough, alluding to the process of making the roti canai, which begin as balls of dough and end with a flat, stretched out bread.
Irrespective of which theory you subscribe to, you can't deny that roti canai is heaven to eat!
Traditionally, it is a breakfast dish, best taken with that other favourite "teh tarik" or stretched/pulled tea, a sweet milky and frothy tea served in a glass.
The easiest and most authentic places to find it are in "mamak shops". These places are typically open 24-hours, so what was once a breakfast dish, you can usually now get around the clock.
If you ask for just "Roti" in a mamak shop, it will be understood to mean "Roti Canai". Or ask for "Roti Kosong" (Empty bread) and you will get the same thing. If you want your roti canai crispy, ask it to be done "garing". If you ask for "Roti Banjir" (flooded bread!), the roti canai will be shredded up into bite-size pieces and drenched with a mixture of fish curry and dhall.
   Roti Banjir 
There are numerous variations of the Roti Canai:
   Roti Pisang (with bananas)
   Roti Telur (with egg)
   Roti Sardin (with sardines)
   Roti Bawang (with onions)
   Roti Telur Bawang (with egg and onions)
   Roti Planta (with ghee margarine)
   Roti Boom (similar to roti planta but smaller size and thicker)
   Roti Tisu (paper thin and conical)
And the grandfather of them all, infilled with meat and served with pickled onions is the:
   Murtabak ayam (chicken)
   Murtabak kambing (mutton)
   Murtabak daging (beef)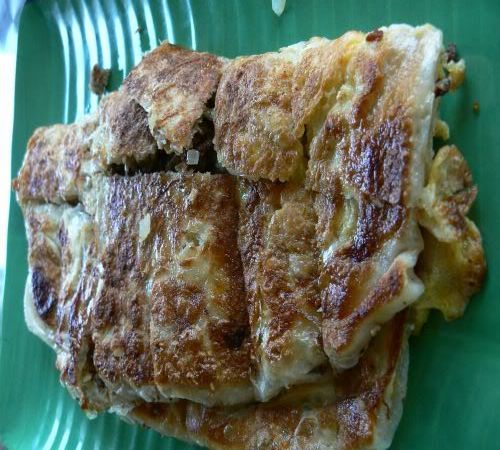 Murtabak Kambing